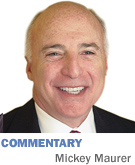 "He's a son of a bitch, but he's our son of a bitch."
It was halftime at an IU game late in the Bob Knight era. I was sharing popcorn with Hoosier basketball-hero-turned-Lebanon-lawyer Pete Obremskey, and he was reacting to yet another iteration of the General's outrageous behavior.
I had not thought about that conversation until I heard a similar assertion recently—this time in a political context. It was a discussion with a major central Indiana Republican Party leader and fund raiser, and the subject was U.S. Senate candidate Richard Mourdock. He was not happy that Mourdock trounced incumbent Richard Lugar in the primary partly by rallying an army of support for his position as an unwavering, uncompromising, rigid Tea Party candidate.
Mourdock energized the right wing of the Republican Party this spring when he declared uncategorically that he rejects cooperation with his political opponents and that his brand of partisanship defines compromise as "Democrats coming our way." In response, Tea Party groups poured millions of dollars into Mourdock campaign coffers.
Lugar would have been a lock to win in the general election. Now the Republican hierarchy is desperate to retain the Indiana Senate delegation in the "R" column, but the outcome is as iffy as the Indianapolis Symphony Orchestra playing a gig in October.
Mourdock and Democrat Joe Donnelly are in what pundits tout as the tightest Senate race in the country. To prevail, Mourdock needs support from the moderates in his party. And to get it, he needs them to believe his primary rhetoric was not the real Mourdock.
Lugar warned that if Mourdock maintained his primary stance it would stifle any achievement he would hope to make in the Senate. Any high school civics student could figure that out. Has Mourdock the Merciless become Mourdock the Mollifier—overnight?
The party leader with whom I talked doesn't buy the miraculous transformation and added, "Mourdock's attitude is hardly palatable, but he's our candidate and we must appreciate the importance of having the Indiana Senate seat held by a Republican. That outweighs any consideration as to the quality of the office-holder."
The theory goes "whatever we can do to defeat the Obama agenda and to thwart the efforts of his henchman Harry Reid, we must do—just swallow hard and pull the lever." I don't agree, but that is an honest approach.
Lt. Gov. Becky Skillman took a different tack. This role model for today's young women has told us in a recent 30-second TV spot that Mourdock will go to Washington to work with Democrats and compromise.
Wait a minute, Becky. Didn't Mourdock say he wouldn't work with Democrats, Republicans or anyone else not sharing his opinion? Is that Senate seat so valuable that we have to flimflam fellow Hoosiers to land it? Say it ain't so.
Skillman has served the public since before she was old enough to vote. She has been Mitch Daniels' lieutenant governor for eight years. She ran for that office expressing the hope that the opportunity would help her make a real difference in the lives of Hoosiers. According to Daniels, "She is a full partner in our administration, my No. 1 confidant, counselor, and sounding board. And when it comes to dealing with the Legislature, she leads me."
I worked with Skillman when I was secretary of commerce and enjoyed the association. She led me, too, on occasion, with her excellent judgment. This time that judgment failed her.
Politics can be ugly, and many ads border on the knife edge of truth, but the Skillman fudge delivered with a wink and a smile is blatant and lamentable. Tea Party political action committees are winking right back as they continue to beef up Mourdock with more of their millions.
As for Obremskey, he had this to say: "Mourdock may also be a son of a bitch, but he ain't my son of a bitch."•
__________
Maurer is a shareholder in IBJ Corp., which owns Indianapolis Business Journal.  His column appears every other week. To comment on this column, send e-mail to mmaurer@ibj.com.
Please enable JavaScript to view this content.