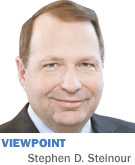 It is an election year, and that means the Midwest is once again in the national spotlight. Presidential candidates are seeking to win over the region's voters, with members of the national press corps following behind and scrambling for the definitive story on the heartland's economy.
Many of these scribes may be tempted to highlight the tired old story line of the Midwest's decline as a manufacturer. The real news is that the Midwest in general and Indiana in particular is bouncing back. In fact, the Midwest is not only resurgent—it is leading the national economic recovery.
According to the Federal Reserve Bank of Philadelphia's June State Index, Indiana and Ohio—historic manufacturing centers—grew faster than the nation in the last year, and are forecasted to grow at least as fast as the nation in the next six months. Housing markets in these states are generally performing better than the nation and are expected to continue to improve.
Additionally, according to the U.S. Bureau of Labor Statistics, Indiana's payrolls have grown faster than or equal to the nation's since the recession ended. Indiana's unemployment rate, though still high, was down to 8 percent in June, compared with its peak of 10.8 percent in May 2009. The national unemployment rate now stands at 8.3 percent.
Ohio, Michigan and Indiana also have excellent fiscal management. The nation could learn from their fiscal soundness with all three enjoying budget surpluses after a period of budget deficits.
One of the biggest challenges to the national economic recovery is sluggish job growth. The Midwest is in the business of attracting jobs and business investment. Additionally, the Midwest is focused on diversifying industries and retraining workers to make sure there is a good fit for companies.
Several companies have announced plans to expand and hire in Indiana.
Roche is investing $300 million over 10 years and will add about 100 jobs by 2017. Finish Line is expanding its Indianapolis headquarters and expects to add up to 300 jobs by 2015. Amazon.com announced plans to build a fulfillment facility in Jeffersonville and create 1,050 jobs. Rolls-Royce is investing $42 million in a new advanced manufacturing facility in Indianapolis, creating over 100 jobs. Home Health Depot has announced plans to expand its Indiana operations and create up to 80 jobs. Kronos has opened a technology center in Indianapolis and is creating 250 jobs. Archway Technology Partners plans to add 140 jobs.
The jobs numbers are improving, incomes are up, and so is consumer spending. In short, the Midwestern economy is demonstrating healthy growth. The economic resurgence that Indiana and the broader Midwest has patiently sought, and for which it has toiled, is very much under way.
We know how to make things in the Midwest. No matter how much the economy changes, we still need cars and pharmaceuticals. We need tool and die companies as well as manufacturers of medical equipment and electronic components. We have retained those skills. And we've trained workers in the use of computers, robotics and flexible manufacturing.
The economy has not healed. But the one message I hope the nation hears is that the Midwestern economy is resilient and on a growth trajectory—and that it can serve as an example for nationwide recovery with government fiscal prudence.•
__________
Steinour is chairman, president and CEO of Huntington Bancshares. Send comments on this column to [email protected].
Please enable JavaScript to view this content.