It might be useful when it comes to a Wiggles concert or a "Lawrence Welk Show" reunion, but it's not always accurate to define arts and entertainment events by the expected age of their audiences.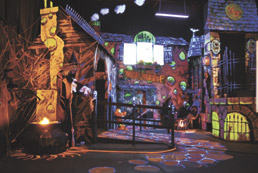 "Wicked Workshop" entrance at The Children's Museum. (Photo courtesy of The Children's Museum)
For instance, I've long argued that the biggest mistake The Children's Museum of Indianapolis ever made was calling itself The Children's Museum of Indianapolis. So much of what's available there could be appealing to those who don't consider themselves children and "Wicked Workshop," the Children's Museum Guild's annual haunted house, fits neatly into that category.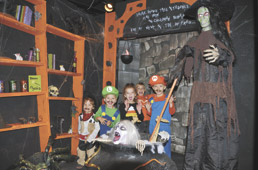 Kids at a cauldron during "IPL Lights-On Hours." (Photo courtesy of The Children's Museum)
I'd guess that most people who've never been through it imagine it at a scare level akin to a Casper cartoon. And that might be true during the lights-on hours. But I can vouch for the shrieks that filled the air on my walk through.
Accompanied by a trying-to-be-brave 10-year-old and my wanting-no-part-of-it wife, we barely had time to soak in each creepily thematic room before someone or some thing would leap out from the shadows. A shock is, of course, different from a scare, but both are effective means of getting the heart racing. And I'd guess there'd be more teens touring if the building weren't saddled with the "children's" name.
What we were able to see as we hustled through—the Broom Room, the Bone Zone, the Ghost Post, et al.—was as effective as what you'd find at a permanent theme park attraction. And while the designers are careful not to take it into Necropolis-level intensity, "Wicked Workshop" is still not afraid to be a little gross. Factoring in sound and lighting, the overall quality is all the more remarkable given the temporary nature of the attraction—and the fact that it's largely put together by volunteers.
Tall pointed black hats off to all involved.
"Wicked Workshop," the 49th annual Children's Museum haunted house, remains in business through Halloween afternoon.
––––––––
The average audience at the Cabaret at the Columbia Club skews in a different direction. But thanks to high school theater and vocal music programs—and to TV's "Glee"—there's a growing population of tweens, teens and college students embracing Broadway and Great American Songbook fare.
That was evident at the Oct. 13 performance by Jonathan Groff. While not a household name beyond the theater geek set, Groff filled the house with a younger crowd than this joint is used to seeing. I'm still not sure if they were drawn because of Groff's recurring role on "Glee" or because of his lead in the original company of Broadway's "Spring Awakening." Most likely a combo. Having seen him in both, though, I still wasn't prepared for the most charismatic entertainer I've seen yet on the Cabaret stage.
Groff opened with a rousing "Life of the Party" from the musical "The Wild Party," segued into a cast-him-in-the-show-already song from "The Last Five Years," offered a hint of the power of "Spring Awakening" with the tender "Left Behind" (followed by a hilarious recounting of forgetting the lyrics during a performance), gave insight into his Lancaster County, Pa., roots leading to a surprisingly committed version of Weird Al Yankovich's "Amish Paradise" rap, and triumphed with an equally funny and virtuosic "The Lonely Goatherd" (accented by the story of a gastricly challenged "Sound of Music" kid).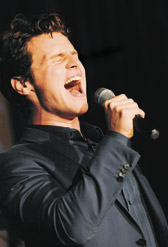 Jonathan Groff (Photo courtesy of The Cabaret at the Columbia Club)
Beyond Groff's charm and musical talent, what made his set work so well? For one, the banter with the audience and his band didn't feel overly rehearsed—or sloppy. He avoided the "and then I did this show/then I did this show" chronology that has hindered many a Broadway performer trying cabaret. For the most part, he made surprising song selections that nonetheless played to his strengths. (Although I wouldn't mind if the Cabaret banned the overdone "Moon River.") And he avoided catering to "Glee" fans by including too much pop.
I'm hoping he inspired many of the young performers who attended the concert and worked with him during an afternoon master class. My only fear is that some may, after seeing Groff's set, throw in the towel. If this is the competition at an audition, who else stands a chance?
––––––––
The Beatles first charted with "Love Me Do" 50 years ago, which places some original fans in their 70s. With young audiences still falling for Fab Four music, that makes them perhaps the band with the widest generational appeal.
No surprise, then, that Dance Kaleidoscope revived its 2007 "Magical Mystery Tour" in 2009 and again this season (Oct. 11-14)—and probably will bring it back in 2015, 2018 and 2022.
I worry, in tough economic times, that revivals will be more common. And even when new programs are created, the commercial needs could stifle the company into being the dance equivalent of Broadway's jukebox musicals (the next two shows being fueled by the music of Frank Sinatra and Edith Piaf).
But why complain when the show keeps getting better? In 2009, the leads came across as showboating, throwing the balance off in both the "Innocence" first act and "Decadence" second. Not the case this time with Timothy June in the spotlight, providing a "Pippin"-like character to follow while never upstaging the ensemble.
He wasn't alone in grasping his place in the big picture. With the current company, there's more of a sense of welcoming the audience into the experience and a greater sense of the dancers' being in the moment. And that's all to the good.•
__________
This column appears weekly. Send information on upcoming arts and entertainment events to [email protected]
Please enable JavaScript to view this content.