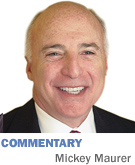 I lived it. I loved it. I bragged about it—too much. Then I forgot about it. That is until Kelly Nicholl, vice president of marketing for the Indiana Economic Development Corp., asked me to provide a short summary of significant events from my time as president of the IEDC and secretary of commerce. What comes to mind were not the deals we made. It was the many special moments. Here are a few.
I remember the signing of the agreement to bring a Toyota assembly operation to Lafayette. Earlier in the negotiations, Dennis Cuneo, president of Toyota North America, slid across the desk a number of written offers from various states, mainly in the South—enticements to Toyota measuring in the tens of millions of dollars. I slid them right back. We had learned that Toyota was far along in negotiations with Subaru to take over a portion of its underutilized plant.
Cuneo said, "How much is your offer?" I replied, "We know you can move into the Subaru plant and begin assembly at least a year before you can construct a plant in any of those other states. We measured how many cars you can build during that time and how much money you will make. Based upon our calculation, you will locate in Indiana regardless of incentives, so we're not offering you anything except a little training and a stop light at the entrance to the plant." We closed that deal at midnight on the top floor of the Toyota building in New York City. Cuneo's last words were "I'm going to lose my job over this."
There was that day in December 2004. I had offered to help the governor-elect in his new administration. We were in his small transition office on East Washington Street. And in those cramped and sweaty temporary accommodations, with aides fussing about, he looked frustrated and harried when he said, "Indiana has a lot more problems than I thought, and you can be of great assistance. How about taking over the Bureau of Motor Vehicles?" I looked for a window to jump out of.
Toward the end of my first year in office, one of our team members was noticeably upset after a telephone conversation with a site-selection representative from Jeff Boat, a company that was seeking to establish a facility on either the Kentucky or Indiana side of the Ohio River. The company's agent was belligerent and rude. I called the CEO of Jeff Boat, Mark Holden, and told him Indiana was not interested in his business unless he learned to treat our agents with respect. I was really impressed with Holden's clout because the governor called me 10 minutes later and wondered what the heck was going on at the IEDC that day. Holden was smart enough to fire his agent and select Indiana.
The Cabela's deal was my introduction to politics. The sporting-goods retailer had a proposed location in Hammond, a Democratic stronghold. At the IEDC, we had decided not to provide incentives for retail business since incentives had very little to do with location decisions. In fact, Cabela's already had optioned a site in Hammond. The retailer normally commanded large incentives because its stores were a boon to economic development and tourism. But we were resisting, and Mayor Tom McDermott Jr. and the local media were barbecuing the governor.
I called McDermott and told him in nasty sailor's language (which I reserve for special occasions) that if he would just stand down, we would make this deal without having to spend precious taxpayer money on needless incentives.
At the groundbreaking, McDermott, with a shovel in hand and a proud smile on his face, told the governor, "Mickey said that if I just kept my mouth shut he would make the deal and he did. Thank you both." No doubt the mayor's father was happy, too. He was on the Cabela's payroll.
I look forward to more special moments with the friends I made in the Daniels administration. I have a deep appreciation of their intelligence, creativity, energy and loyalty.
Thanks boss, for letting me serve.•
__________
Maurer is a shareholder in IBJ Corp., which owns Indianapolis Business Journal. His column appears every other week. To comment on this column, send e-mail to mmaurer@ibj.com.
 
Please enable JavaScript to view this content.