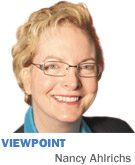 Indiana is showing the first signs that innovation is becoming part of its brand. On Oct. 26 at the Indianapolis Museum of Art, 500 of Indianapolis' most impassioned TEDx fans heard ground-breaking thought leaders discuss the challenges, innovations and future of design learning.
Other glimmers of innovation are seen in the many innovation-centric collaborative efforts such as the Indiana Innovation Awards, the Indiana Innovation Alliance, the Innovation Connector, the Innovate Indiana blog and more—but we need to move these efforts into individual organizations to make innovation part of their culture.
If Indiana is to become an innovation capital, it must attract and retain new businesses and graduates who will take us into growth. It must get young, entrepreneurial leaders to set up shop (and get IT wizards like my nephew to move back home).
Our state and city leaders play an important role, of course. They must help us look beyond our Super Bowl accolades and must continue to push innovation as a key element of Indiana's brand.
But along with these efforts, individual employers must also make innovation part of their organizational culture and brands. An innovation capital requires a top-down and bottom-up effort or we will continue to be an innovation wannabe.
When you think about innovative states across the country, you realize that they are known for specific employers or industries. The Daily Beast published a list of the "20 Most Innovative States," and Indiana is not on the list. We should be!
We expect California to lead the list (and it does) for having the greatest number of innovative companies in America. But there are surprises on the list. Kansas is there—for "bringing innovation to an old industry" by creating the Kansas Agricultural Innovation Center. Kansas is also home to Boeing and other aerospace companies.
New Hampshire is on the list due to the collaboration between the state and the University of New Hampshire to provide funding grants to small businesses during the recent downturn.
The connection between universities and business raised the innovation profile of Michigan, where three of its public universities attracted $1.5 billion in grants for innovative ideas. Even Idaho is on the list, a result of its booming wind and geothermal industries and the fact that Idaho companies make 25 percent of all U.S. semiconductors.
Indiana has plenty of agricultural organizations, wind farms and other alternative energy sources, bioscience companies and solid public universities—and they need to be part of the innovation charge. We need to start seeking rankings.
Our organizations have mastered quality; now we need to master innovation. To do this, what we need most are individual business leaders who will get on the innovation bandwagon and lift up their organization's inventors, risk-takers and big thinkers in every department and division. As leaders, they have to showcase their innovations (Fast Company magazine is just one good place to do this), eat innovation (try Indiana's newest cuisines), and drink innovation (we are bursting with new wineries and craft beers). They need to be in the audience for TEDxIndianapolis and other innovation-focused events.
In the states that place on anyone's "20 Most Innovative States" list, innovation is in the forefront of their business leaders' minds. It is in the forefront of their employees' minds. It is one of the things new grads think of when they consider where to live.
Innovation must become an expectation at all levels, in all organizations, if innovation is to become Indiana's brand.•
__________
Ahlrichs is strategic account manager for FlashPoint and author of "Igniting Gen B and Gen V: New Rules of Engagement for Boomers, Veterans and Long-Termers on the Job." Send comments on this column to ibjedit@ibj.com.
Please enable JavaScript to view this content.