Popular waxing spa The Naked Monkey is set to open its third location Nov. 1—a "Mini Monkey" inside MDG Salon | Studio's new space downtown.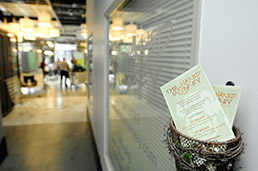 The Naked Monkey plans to open a "Mini Monkey" inside MDG Salon | Studio on Nov. 1. It is the popular waxing spa's first such partnership. (IBJ Photo/ Perry Reichanadter)
Local photographer Greg Perez's lease starts the same day.
Now, MDG Operations Director Travis Moore is lining up other tenants. His wish list: a makeup artist, "blow-out" specialist, nail technician and medical professional offering cosmetic procedures like Botox injections.
"I'd love to get a tattoo artist in here," he added, gesturing around the only unfinished room in the 6,500-square-foot salon. "That would be so awesome."
Formerly known as Meridian Design Group, MDG relocated from the Pan Am Building in July. The move to custom space on the ground floor of the McGowan Insurance headquarters at 355 Indiana Ave. was more than an address change. It also signaled a strategy shift for the firm his parents founded in 1985.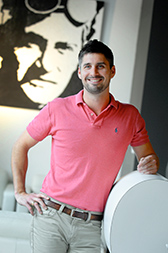 Travis Moore is plotting a new course for the salon his parents, Joe and Sue Moore, opened in 1985. (IBJ Photo/ Perry Reichanadter)
Like many other small businesses, MDG is hoping to find strength in numbers.
So it is renting space in its facility to related—but separate—enterprises, lowering overhead while boosting visibility. After all, Naked Monkey faithful who come in for a bikini wax also might need a cut and color. And vice versa. Same goes for the executives Perez schedules for new corporate head shots.
"It's great to have that kind of cooperation," said Brenda Schultz, who co-founded The Naked Money in 2006. "Referrals are the best form of advertising."
Schultz and business partner Jeniffer Webber had opened full-blown waxing salons in Carmel and Fishers and were discussing the possibility of franchising when Webber died unexpectedly last year. Expansion suddenly was off the table—until Moore called.
His proposal to share space seemed like an ideal way for The Naked Monkey to explore the downtown market with minimal risk and less work than going it alone, Schultz said. The fact that MDG wants tenants to keep their individual brands sealed the deal.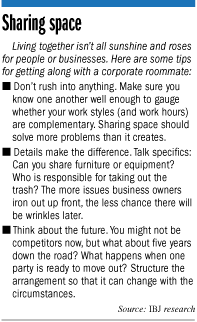 "I didn't want to just have two aestheticians working at MDG," she said. "I wanted to have a Monkey within MDG. We're maintaining our identity and just sharing space."
Local architect David Yeager designed the salon to accommodate a variety of users: commissioned MDG stylists, independent professionals renting booths, and separate businesses like The Naked Monkey. He's working on plans for a similar concept in Carmel to replace an existing MDG Salon there.
It wasn't a stretch for him to incorporate the idea of multiple tenants. Yeager also is the design mastermind behind family-owned Yeager Properties' distinctive office suite buildings throughout central Indiana. The facilities rent space to small firms looking to share amenities like a reception area and conference rooms.
"The world is going in that direction," Yeager said. "The days of huge corporate offices are over. This is more efficient. It makes sense."
Indeed, sharing office space has become increasingly common for businesses of all kinds as corporate downsizing creates excess capacity. Such arrangements are more complicated for retailers, but many make it work nonetheless.
"It is an excellent way to cut costs," said Steve Delaney, a principal at Indianapolis-based retail real estate firm Sitehawk. "As leasing rates have gone up, everyone is looking for ways to save money."
He urged would-be roommates to spell out the specifics of their arrangements in hopes of eliminating misunderstandings later. Figure out details like how to split utility bills up front, Delaney advised.
Lorraine Ball and Eric Schneller discussed everything when they bought a Carmel house together six years ago. Ball needed two offices for her marketing firm Roundpeg, and Schneller needed an office, garage and dumpster for his Crew Property Improvement Specialists, which has since closed. Ball paid the bills, and Schneller took care of building maintenance.
"It was a very complementary relationship," Ball said. "In a way, it was really nice to be in completely unrelated businesses."
Ball and Schneller didn't have to worry about encroaching on each other's territory, she said. And because they didn't have many—if any—clients in common, they avoided the potential pitfall of one firm's customer relationships being affected by the other's actions.
Still, sheer proximity gave them insight into each other's enterprises, and Ball said she enjoyed having another business owner around for the occasional gut check.
"We could kick back, put our feet up on our desks, and chat," she said.
Retail businesses that move in together usually are more alike than not, appealing to the same kinds of customers. Delaney gave the example of a restaurant and frozen yogurt shop sharing a kitchen. "That kind of synergy just makes sense," he said.
But it's not required.
Twin sisters Mandy Selke and Carly Swift bought a Queen Anne home on Broad Ripple's Cornell Avenue in 2009 to accommodate their growing popcorn business, Just Pop In. But it also is the storefront for Selke's Night Owl Baby, a custom children's clothing retailer.
If a shopper thinks it odd to find bowties in a display case across from a package of Dark Choco Cherry Bliss, that's OK by them. More often, they hear from customers who appreciate the shop's fun vibe.
"We've got enough space that we can showcase both product lines well," Selke said. "It has really worked."
And there's some overlap. Case in point: Newborn attire boasting "Just popped out." (For the record, that's a Just Pop In product.)
Each business's sales are tracked separately, Swift said, a process made easier by a sophisticated point-of-sale system.
Back downtown at MDG, tenants like The Naked Monkey will operate independently, setting their own schedules and rates.
"I don't want someone else making our appointments," Schultz said. "We have our own language—Monkey-speak. Everything we do sounds dirty, so we're better off handling it ourselves."
That's fine by Moore, who is happy to let the specialists practice their craft. As a licensed cosmetologist, the 31-year-old knows how to wax eyebrows and paint nails, "but you do not want me doing any of that. My specialty is hair."
Most salons offer such ancillary services, but he said MDG's brand-within-a-brand approach is novel.
"We don't have to invest in equipment, management time or advanced training," he said. "We just leave it up to them."•
Please enable JavaScript to view this content.