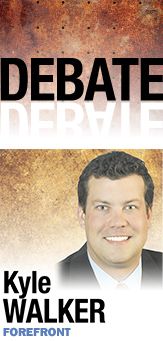 Question: Increasing numbers of voters in Marion County are choosing Democratic presidential candidates, and the City-County Council increasingly is controlled by Democrats. Is the county, once a Republican stronghold, destined for Democratic domination?
Answer: As with Mark Twain, the report of the death of the Marion County Republican Party was an exaggeration. Don't believe me? Check the 25th floor of the City-County Building.
Once upon a time, to win here one needed merely to have "Republican" beside his or her name on a ballot. Those days are certainly gone, but while it's true that Democrats now have a voter registration advantage, it is not true that they will win every office, every time. To the contrary, what was lauded as the unstoppable march to Democratic dominance after Bart Peterson won a second term in 2003 has stalled in the high-profile races that really define the future of our city and state.
For example, from 2003 to 2006, only two contested Republican candidates won Marion County—Attorney General Steve Carter in 2004 and Prosecutor Carl Brizzi in 2006. Since then, Mitch Daniels won Marion County, Greg Ballard won twice as mayor, and Republicans won majority on the City-County Council in 2007—narrowly missing the majority in 2011.
Republicans also still control the councils in nearly every city and town throughout Marion County and a majority of the General Assembly seats. An inescapable fact is that, on the races that grab the headlines and choose the major city and state leadership, we absolutely remain a battleground county.
What can we learn from this? The fact is that decades of GOP dominance have become election cycles of hard-fought contests in which Republicans must put up better candidates, outwork their Democratic opponents, and engage independents to offset the Democratic advantage in party identification.
Marion County Democrats cultivate and benefit from a perception that the county has become their domain. But that isn't the case. This county has become the province of community-minded independents who, when educated about the choices of candidates, opt for the one who provides the best vision for our city and state.
This fact is exemplified by the key races for mayor in 2007 and 2011. In the first instance, you had an absolute newcomer in retired Marine Greg Ballard, who united the diverse elements of the Marion County Republican Party and the independent electorate who believed our city could do better and who, with a shoestring budget, shocked the political world by defeating Peterson.
And for the pundits and the naysayers who thought the 2007 revolution was going to be just a four-year holiday from history, 2011 proved them wrong.
In many ways, Ballard's victory in 2011 is more amazing than his "Had Enough?" campaign of 2007. The Democrats had four years to prepare. Their venerable once-and-future chairman, Ed Treacy, reappeared to reclaim the Mayor's Office. Many new Democratic blogs popped up to hurl attacks at the mayor and proclaim the end of the Republican blip was at hand. One since-defunct blog even had a countdown to the end of the Ballard administration.
Ballard ran and won because of his tremendous array of accomplishments. His well-earned reputation for connecting with people at the grass-roots level and brand of common-sense Republicanism overcame the Democrats' advantage in numbers.
Ballard shares a common thread with Gov. Mitch Daniels, who carried the county in 2008. Strong, thoughtful candidates with a record of accomplishment, integrity and straight talk can overcome almost any voter registration advantage.
Dead? Not so fast.•
• Walker is chairman of the Marion County Republican Party. Comment at ibjedit@ibj.com.
Please enable JavaScript to view this content.