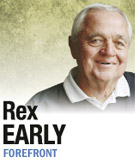 It is only a few days until the election, and the Mourdock-Donnelly Senate race is still in limbo.
I remember in the Clinton-Bush campaign, Clinton consultant James Carville said, "It's the economy, stupid."
The battle cry today is, "It's the Senate, stupid."
Both sides are throwing hand grenades and their TV ads are brutal. This is really no surprise, since this Indiana election might well determine which party will have the 51 votes, thus control of the Senate.
The real question independents and some Republicans, those who are still pouting about Lugar's primary loss, must ask themselves is, do you really want Harry Reid and his tax-and-spend programs running the Senate? If the answer is no, you must vote for Mourdock.
I have noticed that Donnelly TV ads almost always mention the Mourdock Way. Donnelly people must be mesmerized by the Mourdock Way. Let me tell you what it means to me:
• It's the Mourdock Way to vote no on the election of Reid for Senate majority leader. Donnelly will vote yes.
• It's the Mourdock Way to vote no on Obamacare and its trillion-dollar price tag. Donnelly voted yes.
• It's the Mourdock Way to vote no on the $787 billion stimulus plan. Donnelly voted yes.
• It's the Mourdock Way to vote no on raising the debt ceiling. Donnelly voted yes—six times.
The list goes on and on.
Mourdock is running as a conservative Republican. Donnelly wants us to believe he's seen the light and is going to work hand-in-hand with our Republican senators. I guess he wants to be a Demopublican.
In a column about the Mourdock and Donnelly race, former Indianapolis Mayor Bill Hudnut said, "Can a leopard change his spots?"
He's right. Donnelly is a liberal and he will help elect Reid as majority leader, just as he voted to elect Nancy Pelosi speaker of the House. Donnelly is not going to change his spots.
In addition to their tax-and-spending policy, the Reid-Pelosi and Donnelly Party in four years:
• Endorsed same-sex marriages.
• Called for automatic cuts for the military while their own defense secretary described the cuts as devastating.
Donnelly, the new Demopublican, has had a complete change of mind about Obama. In the 2008 election, Obama visited Elkhart and Kokomo. Donnelly was there and could not get any closer to Obama. You would have thought they were joined at the hip.
In 2012, Donnelly wouldn't go to the Democratic Convention even though as a super delegate at the 2008 convention he voted for Obama. (Four other super delegates from Indiana voted for Hillary Clinton.)
When Michelle Obama visited Indiana a few months ago, Donnelly wouldn't go near her. He had to asphalt his driveway or wax his pet alligator or something else important that day.
You know, there is just plain pocrisy and then there's high-pocrisy. Donnelly's hiding out from the Obamas is high-pocrisy.
Donnelly's TV ads point out that he wants to "walk in the middle of the road." I had an old friend, now deceased, Earl "Rusty" Butz. Butz was from Lafayette and was secretary of agriculture under Gerald Ford. Butz had something to say about politicians who walk down the middle of the road: "The only thing in the middle of the road is a yellow stripe and dead skunks."
I am still a strong supporter of Mourdock. I am much more concerned about the fate of the country I served and love than I am about one's religious beliefs. If there is not a Republican majority in the Senate because of Indiana, then shame on all those fair-weather friends.•
• Early served in the Indiana House and as a Republican state chairman, as well as on the Republican National Committee. Send comments on this column to ibjedit@ibj.com.
Please enable JavaScript to view this content.