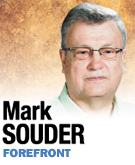 Democratic gubernatorial candidate John Gregg has hauled out the canard that Mike Pence is a "show horse," not a "work horse," based upon two "polls" in 2006 and 2008. Neither was scientific: They were anonymous, voting multiple times could be easily done, and rivals could rig the voting.
Even if the voting had been legitimate, it shows Pence's power, not his weakness. Pence at the time was leading the Republican Study Committee, which challenged the House leadership. He was also the nemesis of the liberals. Pence was getting more press than other Republicans because he was our most effective spokesman. The Democrats tried every way they could to discredit him.
These surveys somewhat measure envy and alternative methods of how congressmen do their jobs. Most members toil in relative obscurity outside their districts as they do committee work and represent district interests and constituent service.
If you become a leader in a category through your work, you become well-known in smaller networks, such as I did in education, national parks, border security and illegal narcotics. My national coverage was greatest in the Newt Gingrich years, when floor action by activist freshmen in the class of 1994 as well as clashes with our speaker dominated the news.
Those who worked within the committee structure easily become jealous of those featured in the national media. This is especially true of their staff, who are the ones who vote in such polls, since the value of one's resume depends to a degree on the fame of your boss.
Jeff Flake and Sheila Jackson-Lee were also mentioned.
Flake basically focused on floor amendments attacking earmarks in appropriations bills during most of his House career. He was active in other issues ranging from the Resources Committee to International Relations, but without press. His attacks on earmarks made him widely known outside Congress, but inside Congress, let's just say that most who earmarked were eager to hurt his reputation in any way possible. But he defined an issue because of his actions.
The following may be the only defense you will ever hear of Democratic congresswoman Sheila Jackson Lee. She drives almost every single member of Congress crazy with her constant floor comments and amendments to every single bill. (Reports say her staff is ordered to develop three amendments for every bill.)
But once, when she traveled with a congressional delegation I was chairing to the African-heritage-dominated islands in the Caribbean, where we met with leaders on narcotics issues (no beach sides of the islands), she told me a story I will never forget.
In every island, she was a hero, and they would specifically mention C-Span. She told me the reason she spoke on everything was because black women in the United States and around the world recognized her as a symbol of the advances of black women, especially outside the United States. I saw she was an inspiration. It made me understand her differently.
Here is my basic point: Media is a powerful communicator. Yes, it is to a degree "showy," but in politics, "show"—that is, the media battle—is critical to winning any goal.
One more point on Pence directly: He was also a "work horse." His leadership of the Republican Study Committee and the Republican Conference meant he moved legislation to law (bills and amendments) in the name of others. He is the most effective congressman I saw at doing both things: legislating and communicating.
We need that in a governor as well.•
• Souder, a former business owner and Republican representative of the 4th Congressional District, is a political commentator living in Fort Wayne. Send comments to [email protected].
Please enable JavaScript to view this content.