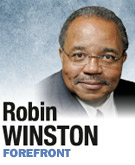 Politics is an amazing, yet perplexing, profession.
I have often wondered why President Obama trails Mitt Romney by a large margin in rural areas. In fact, Politico and National Public Radio have the president trailing Romney by 22 points, 59 to 37 in the percentage of voters that have indicated a preference. Romney continues to perform well in rural areas and has increased his lead from a Greenberg Quinlan Rosberg Research and North Star Opinion Research poll that showed he had only a 54-40 lead.
This voting bloc has always proved difficult for the president. Overwhelmingly white, mainly conservative and generally church-going, rural voters did not support the president in 2008, when John McCain won their support 53-45, according to Politico.
I argue that, when rural voters look at the facts, they have reason to support the re-election of the president.
During the Bush administration, the U.S. Department of Agriculture Office of Rural Development reported investing $2.5 million in Indiana. Compare that with a total of $3.5 million invested by the Obama administration in our rural communities.
The USDA's Community Facilities Program and our Housing Program helped 20,465 Hoosier families purchase a home. Note that this was at a time many homeowners could not secure loans from their financial institutions.
According to data from the department, more than 100 Indiana communities were able to build, expand or upgrade their water or wastewater systems; 40 businesses used loan guarantees oriented to rural areas to purchase equipment, build or expand their operations and hire more employees; and 290 businesses, farmers or ranchers were able to increase their bottom line through renewable energy or energy-efficiency upgrades.
Obama has a solid track record of supporting rural areas in our state. What he needs to do politically is to make the case that he and his policies are culturally acceptable to white, rural voters. I believe he has, by making sure communities that never received federal support were able to garner grants and/or loans during his first term.
Once again, don't listen to the rhetoric. Look at the record. Across our state, communities received funding for emergency vehicles (Thorntown), water system improvements (Brown County), wastewater system upgrades (near Martinsville), medical equipment and facilities (Elwood and Hope), new hospitals (Bedford and Tell City) and technology upgrades (Putnam County).
The Obama record doesn't just go to bricks and mortar. There have been 2,720 housing loans or loan guarantees totaling $317.9 million to Indiana families. Those investments in the quality of life for rural Indiana will benefit this and future generations.
A proven track record of success in funding new programs. Funding for home ownership. Investments in infrastructure across the state so rural communities can compete for the jobs of tomorrow. And a commitment to provide additional funds to extend health care options to rural communities.
In each instance, decisions made that are not political—but are in the best interest of residents of rural America and, in this case, rural Indiana.
Better off than you were four years ago? You bet, especially if you live in rural Indiana and your community has benefited from investments made by the president.
On Election Night, the eyes of the nation will be on Ohio. Instead of wondering how the president ran in Cleveland, please take the time to see how he did in Belmont County.
Similarly, don't focus on Lake County in Indiana; let's see how he ran in places like Sheridan, Thorntown and Greentown. Those will be my bellwether precincts on Nov. 6 and will help determine how close our election will be in Indiana.•
• Winston is president of Winston/Terrell Group, an Indianapolis-based government affairs, public outreach and community relations firm. He was chairman of the Indiana Democratic Party from 1999-2001. Send comments on this column to ibjedit@ibj.com.
Please enable JavaScript to view this content.