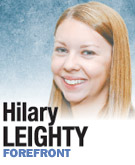 Apparently, the Republican Party has waged a war on women. I've heard this from the mainstream media, many Democratic candidates and even a few Indiana University professors. In this election cycle, the only war on women is a broken economy.

Women are harmed by an economy in recession. Today, 5.5 million women are unemployed and 26 million women are living in poverty. President Obama and congressional Democrats have not set forth a specific plan for the next four years.

Gov. Romney will create 12 million jobs by decreasing marginal tax rates on small businesses and cutting the corporate tax rate 10 percent. These tax cuts will result in employers' hiring more workers, thereby growing small businesses. Jobs lead to rising pay and opportunities. The only empowerment I need from my government is a job.

Hoosier women understand the importance of a viable economy. Under Gov. Daniels' leadership last year alone, Indiana passed a balanced budget without a general tax increase, implemented a state government spending cap in the form of an automatic taxpayer refund, and reduced state corporate tax rates.

If I'm not mistaken, women benefit as much as men from fiscally sound policies. It is imperative that Indiana continues Daniels' progress by electing Mike Pence and Sue Ellspermann governor and lieutenant governor. A vote for the Gregg-Simpson ticket will only reverse our economic progress.

Women nationwide, especially Hoosier women, understand the gravity of an economy in recession. Democrats from Obama to Gregg paint themselves as the only sensible candidate for women. Democrats at all levels preach lofty rhetoric to female voters about the importance of equal pay, abortion and contraception.

Unfortunately, rhetoric does not produce results and unemployment numbers don't lie. With such a high unemployment rate among women and so many in poverty, the suggestion that women voters are only concerned about abortions and free birth control is insulting.

The idea that women need a handout in the form of free birth control is the opposite of everything the feminist movement represents. Liberal feminists strive to be independent from men. A true feminist is independent from all handouts, especially from the government.

I need my elected officials to concentrate on repairing our broken economy so I can find a job when I graduate. I do not need my elected officials wasting time and resources on how to best provide me free birth control.

Women have voted in greater numbers than men in every presidential election since 1964. With so much in jeopardy, it is more important than ever that women continue voting.

Although Indiana is not a competitive state in the presidential election this time around, our vote is still crucial. Indiana has an enormously close Senate race on the line, which could decide which party holds the majority.

Indiana voters also have the opportunity to elect three fantastic female candidates. We must send Ellspermann to office, and Jackie Walorski and Susan Brooks to Congress. All three of these candidates are fiscally responsible and understand firsthand exactly which legislative issues affect women most.

Women are a segment of voters that most candidates are fighting to win. Indiana women have the potential to make all the difference in elections from the president, to the governor's office, to the 2nd and 5th congressional districts. Every Hoosier female of all ages must make her voice heard in the voting booth; the future of not just Indiana, but the entire country, depends on it.•

• Leighty, an Indiana University sophomore double majoring in marketing and management, is president of the IU College Republicans. Send comments on this column to ibjedit@ibj.com.