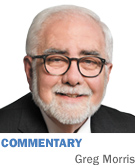 If you haven't already voted, please vote on Nov. 6. It's your civic duty, and there's no excuse not to. It doesn't matter if you think a particular race has already been decided. It doesn't matter if you're disgusted with all the negative ads, or the entire election process for that matter. It doesn't matter if you dislike every candidate running for office.
We all need to express our feelings about what's going on in our local communities, our state and our country by casting votes for the candidates we believe can make the most positive impact on our lives. Our system is certainly not perfect, but it's still the best in the world—by a long shot.
It seems we say it after every election, and we'll say it again this time: Each election cycle brings a new low to the process as the attack ads become more frequent and more outrageous. As a result, many of us have tried to limit our television viewing recently to allow for some election overload downtime. I know I fall into that camp. A constant barrage of this stuff will rot your brain.
This past week, on local TV stations, I've seen as many as six commercials in a row talking about either Joe Donnelly or Richard Mourdock. Half of the six commercials in a break were for and half were against the candidate. I lost track of who paid for which message, which I'm sure is the goal. I can say most of the messages were made possible by the tens of millions of dollars in PAC money that has poured into the state funding this particular race.
The Donnelly/Mourdock contest is just one of many important offices up for grabs that have received significant funding. All that money pouring in results in political commercials airing one after another—after another. As much as I hate to admit it, I know nasty attack ads work, but I often wonder who really believes any of this garbage that gets shoved down our throats day after day. Unfortunately, I suspect those negative messages influence more people than we can possible imagine. It's a darn shame.
It's been written about at length, but I'll throw in my 2 cents that I believe the U.S. Supreme Court's 2010 Citizens United decision to allow unrestricted political spending, outside a candidate's control, has been a disaster. In fact, John Ketzenberger, former IBJ'er and current president of the Indiana Fiscal Policy Institute, had a well-written opinion piece in the Oct. 29 issue of the Indianapolis Star on this very topic.
But fear not. While there will be weeks of post-election analysis from all the talking heads, those nasty commercials will have faded away (at least for a while). That's a good thing. We need the break. We need to renew some optimism that maybe, just maybe, this time we'll see some positive change. We need to hope for that. That optimism is what drives us forward.
Now, I'm not naïve enough to think any kind of substantive healing will occur after this election, at least at the national level. Does anybody believe there will be a consensus on either side of the aisle to want to reach out and work together to accomplish anything good for the benefit of the people they are elected to serve? I hate to be a cynic, but I would say that is doubtful—no matter who wins the White House or which party controls the U.S. Senate or House. I believe we're years, maybe decades, away from that possibility.
But we'll deal with it. That's what we do. The sky won't fall and the sun will continue to rise in the East and set in the West. No matter the election outcome, we'll wish for good health and prosperity. We'll continue our business and personal pursuits with thoughts of keeping or obtaining a good job so we can make enough money to enable us to take care of ourselves, our family, loved ones and those less fortunate. We'll strive for happiness, to love and be loved. Life will go on. We'll continue the good fight.
But first, you have to participate in the process. You have to vote. Your individual vote WILL make a difference. It's meaningful. Help shape the future of your community and—it's not too grandiose to say—the world. Vote.•
__________
Morris is publisher of IBJ. His column appears every other week. To comment on this column, send e-mail to gmorris@ibj.com.
Please enable JavaScript to view this content.