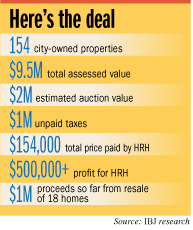 Reggie Walton sat down at his desk on the 20th floor of the City-County Building a few days after he signed off on the deal, and the thought hit him.

I just made someone a millionaire.

The city had agreed in a little-noticed transaction in late 2011 to sell 154 vacant homes and apartment buildings in the Indy Land Bank for a total of just $154,000—a fraction of their estimated $2 million value at auction.

The properties went to a financially shaky not-for-profit group called Homeless & ReEntry Helpers Inc., which acted as a straw buyer for local investors who cherry-picked the properties from more than 6,000 tax-delinquent Marion County parcels.

The 4-year-old organization immediately flipped them to its investor partners at a markup of up to 800 percent. Homeless & ReEntry Helpers made more than $500,000 on the deal, and investors who fixed up and quickly resold homes netted thousands apiece in profit.

There's little dispute except among the deal's beneficiaries that the city bungled the sale, leaving millions of dollars on the table by selling so many properties at once without competitive bids or appraisals.
It was such an unusual transaction that both the Indy Land Bank and the Marion County Treasurer's Office—the agency ultimately responsible for selling tax-delinquent properties—now limit the scope of such deals with not-for-profits. And neither, at the moment, is selling to Homeless & ReEntry Helpers.
IBJ.COM EXTRA
Click here
for our interactive map with stats including sale prices, assessed values and overdue taxes for every property the Indy Land Bank sold to Homeless & ReEntry Helpers.
The homes the city sold for $1,000 each were not worthless: Records show at least 18 of them changed hands three times in less than a year, with proceeds from the most recent round of sales—mostly to out-of-state buyers using retirement accounts—totaling more than $1 million for investors who bought from Homeless & ReEntry Helpers. And another 136 properties haven't yet flipped.

The 154 properties had a total 2011 assessed value of $9.5 million.

Walton, who heads the land bank and whose name was on the deed documents transferring ownership to Homeless & ReEntry Helpers, said he was leery of the deal from the start.

"I wasn't a fan of the whole transaction, but I wasn't the signature on how it happened," said Walton, who noted city officials above his $50,000-a-year pay grade, including former Department of Metropolitan Development Director Maury Plambeck, pushed the deal. "I can guarantee you won't see a distribution of property on that scale in this city again."

Sense of desperation

Walton was concerned about the large number of properties involved and how the transfer from a county-owned surplus list into the land bank circumvented normal procedure.

Typically, the land bank handles only the most derelict properties with serious code violations and safety concerns. It sells a few properties at a time, mostly to not-for-profits such as community development corporations or via sealed-bid auction to private investors.

Hawkins
Homeless & ReEntry Helpers also was suspect. Its executive director, Don E. Hawkins, has gone through two personal bankruptcies, spent time in jail for theft, and was homeless himself when he started the organization in 2008.

The not-for-profit hasn't filed required disclosures with the IRS since 2009, putting it in danger of losing its tax-exempt status. And the revenue from flipping properties might not even qualify as tax-exempt under federal law since it does not appear to directly tie to its charitable mission.

Another head-scratcher: The city sold homes to Homeless & ReEntry Helpers at a time established organizations such as Indiana Landmarks were struggling to acquire vacant properties from the city.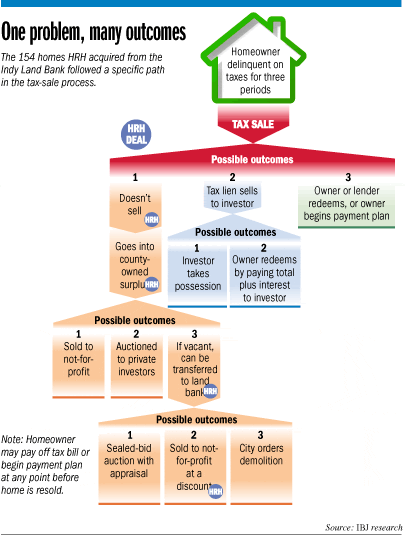 In retrospect, Walton chalks up the deal to a sense of desperation among officials eager to clean up blight, save on mowing and other maintenance expenses, and return vacant homes to productive use in bulk instead of tearing them down.

There also was a desire to help Homeless & ReEntry Helpers, whose first and only source of income was flipping the vacant tax-delinquent homes. The city accepted less than the normal not-for-profit price of $2,500 per property because HRH had agreed to handle the work required to obtain clear titles.

A couple of the investors who were lined up to buy homes from Homeless & ReEntry Helpers—including Brad Davis, the former CEO of Davis Homes—had pledged collateral to support the deal since HRH was basically broke.

The worst-case scenario, city officials figured, would be the properties returning to city ownership if investors failed to fix them up within the allotted three-year span.

But Walton's concerns proved prescient.

Homeless & ReEntry Helpers bounced a $30,000 check at closing, and complaints poured into the city from HRH investors who felt they had been misled. The not-for-profit struggled to corral its investors, who Walton said had finished about half the homes a year after the city closed on the deal.

The city may have squandered an opportunity to off-load some of its most troubled vacant properties by packaging them with the more promising properties that went to Homeless & ReEntry Helpers, noted Bill Taft, executive director of the Local Initiatives Support Corp.'s Indianapolis office.

"It makes sense for an entity to take a mixed bag to subsidize the ones no one would pay anything for," said Taft, whose organization backs community development. "When that's not the case, it gets a little strange."

'A beautiful partnership'

The land bank deal was a coup for Homeless & ReEntry Helpers, founded in 2008 by Hawkins, a 66-year-old Vietnam veteran who has advised Mayor Greg Ballard on issues involving veterans and ex-offenders.