One of the region's largest dry cleaning companies recently washed its hands of perchloroethylene, the dry cleaning chemical at the heart of about 170 cleaner site cleanups statewide.
Indianapolis-based Classic Cleaners is among relatively few in the state to convert entirely to non-toxic fluids, in this case SolvonK4.
The 17-store chain invested more than $300,000 over the last few years in machines capable of using the new cleaning fluids, said Steve Arnold, general manager of Classic Cleaners.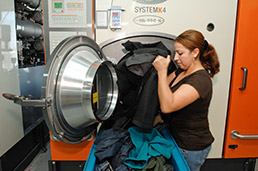 Classic Cleaners' new machines use a non-toxic solvent, which is free of perc. (IBJ photo/Perry Reichanadter)
So-called perc has been linked to cancer and liver damage. The chemical is particularly insidious when it enters the groundwater supply.
Classic pulled the last of its perc dry cleaning machines last month and replaced them with new units from Italty.
"The initial cost is huge," Arnold acknowledged. However, he said the cost per gallon of the new fluid is comparable to perc.
The amount of fluid needed is also less, he said, and so far it's cleaning better than the old fluids. The new fluid is odorless and better for those with skin allergies as well, Arnold said.
The company has been looking for a cost-effective alternative to perc since the 1990s.
"We knew from the beginning perc wasn't going to be good for the environment or good for employees long term," he said.
Many area cleaners started replacing perc machines years ago. The Tuchman Cleaners chain in 2008 began using a liquid silicone cleaning fluid and said it has only a couple of stores yet to convert.
Others, such as Deering Cleaners Downtown, switched to two non-perc chemicals. One still has a hydrocarbon base but is used only in small amounts. And unlike perc, it's not classified as a hazardous waste.
"Cleaners, as they can, are definitely moving away from perchloroethylene," said Greg Rankin, owner of Deering Cleaners Downtown. "The public doesn't like it, and we understand."
Morellis Cleaners plans to switch to an alternative solvent as it replaces machinery. Co-owner Tony Ellis said the K4 solvent appears to have the best cleaning characteristics of the new breed of solvents.
"I think perc is a perfectly legitimate solvent, but it has to be handled the right way," he said.
Ellis said his firm uses strict handling standards. In addition, contemporary equipment has containment systems to help make perc safer to handle. Dryers used to vent the vapor outdoors until equipment standards changed in the 1990s.
"The industry has come a long way," Ellis said.•
Please enable JavaScript to view this content.