Many Indiana Republicans want to use the Healthy Indiana Plan to expand Medicaid coverage in Indiana to more low-income adults.
But the HIP program—which offers health insurance based on health savings accounts to uninsured adults—has managed to attract just one-third of the Hoosiers it was designed for and has cost about twice as much per enrollee as predicted.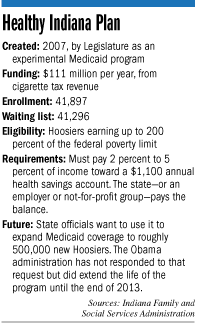 Which raises a key question: Will HIP be able to adequately and affordably handle the more than 12-fold increase in coverage called for by President Obama's health reform law?
That question was raised 18 months ago, when the Indiana General Assembly voted along party lines to use the HIP program to cover an estimated 519,000 more Hoosiers who would qualify for Medicaid benefits under the looser eligibility rules contained in Obama's health reform law. The HIP program covers fewer than 42,000 people now.
Using HIP for the Medicaid expansion still requires the approval of the federal government, which has yet to answer Indiana's request.
But state lawmakers will have to consider the question again after the Nov. 6 election, as they now face a decision on whether to expand Medicaid coverage in Indiana at all.
Obama's health law called for all states to provide Medicaid benefits to adults with incomes up to 138 percent of the federal poverty limit, beginning in 2014.
Republican gubernatorial candidate Mike Pence, who has been highly critical of Obama's health reform law, said through a spokeswoman that he is "open to discussing" an expansion of Medicaid if Indiana can use the HIP program to do it.
A spokesman for Democratic candidate John Gregg praised the HIP program but declined to endorse it as a vehicle for the Medicaid expansion.
Indianapolis-area hospitals and health clinics say they would welcome an expansion of Medicaid, whether in its traditional form or under HIP.
"Any plan that increases the access to care, and patients take full advantage of finding access to care, that's fine with us," said Jimmy Brown, CEO of HealthNet Inc., which runs eight community health centers in low-income neighborhoods in Indianapolis.
Others, however, aren't sure HIP is the best way to go. Fran Quigley, an attorney and professor of health at the Indiana University McKinney School of Law, said the HIP program's failures to sign up and adequately serve as many people as hoped raises doubts about its suitability for the Medicaid expansion.
"Since the Healthy Indiana Plan has struggled to meet the coverage needs of a comparatively smaller population, I question whether HIP is 'ready for prime-time,' as the program has shown no indication it can effectively and fairly meet the needs of a significantly larger population in 2014," Quigley said in formal testimony before the Legislature last year.
Decision time
States won the freedom not to expand Medicaid in June when the U.S. Supreme Court declared unconstitutional the health reform law's requirement that states expand their Medicaid programs—or else lose all existing funding for Medicaid.
So Indiana could leave its current Medicaid program intact and forgo the $3.4 billion in annual federal funding it would receive to expand Medicaid coverage, according to estimates by the Seattle-based actuarial firm Milliman Inc.
The reason for not expanding Medicaid is cost. After a ramp-up period with lower costs, Indiana would have to spend $516 million per year to run an expanded Medicaid program as called for in Obama's health care law, the Patient Protection and Affordable Care Act.
That amount could be reduced to $400 million per year if Indiana killed the HIP program and instead applied the cigarette taxes that fund it to pay for the Medicaid expansion.
When it was created in 2007, the HIP program was supposed to receive $154 million a year in cigarette taxes and cover 120,000 or more Hoosiers. Instead, the cigarette taxes have been generating $113 million to cover just 42,000 HIP participants—a cost of about $2,600 per person.
Costs have been higher among HIP members than anticipated because the level of sickness among its members has been higher than predicted, said Seema Verma, a health policy consultant who has been Gov. Mitch Daniels' point person on HIP and the Affordable Care Act.
Still, she added, HIP is better designed to be affordable to the state and still meet the needs of the working poor than is traditional Medicaid, which was created in 1965 primarily to serve the poor who were aged, disabled or pregnant.

Verma
"The personal responsibility requirements are very different [for them] than for someone who's working," Verma said.
HIP requires each participant to pay for their medical care out of a $1,100 "POWER" account, to which they are supposed to contribute at least 2 percent of their income. If those contributions amount to less than $1,100, the state or an employer or a not-for-profit can make up the rest.
About 25 percent of HIP's participants have ended up paying nothing for their coverage, due to a wrinkle in how the federal Medicaid agency calculates income, Verma said.
Cap confusion
Verma also expressed confidence that the HIP program could handle far more applicants. The program has never reached its projected peak of 120,000 participants, she said, due to a pullback in marketing by the Daniels administration and confusion about caps on enrollment.
HIP began providing coverage to uninsured Hoosiers in January 2008 and quickly ramped up to about 35,000 enrollees with a peak of 70,000 on a waiting list. But many people kept getting denied coverage because they were childless adults, and the federal government placed a cap on the number of childless adults HIP could cover.
"There was a lot of confusion in the community," Verma said. "I think that cap on childless adults has had an impact."
If HIP were used to expand Medicaid coverage in Indiana, no such cap would be in place, Verma said.
Dora Chestine has nothing but praise for the HIP program, which she has used the past three years to cover her health care bills. She joined the program after being uninsured for a five-year period, during which she incurred $6,000 in medical debt.
"It really was an awesome program for me, because I no longer had to pay for pharmaceuticals, I no longer had to pay for going in to see the doctor," said Chestine, who runs the Little Disciples of Christ Youth Center on the east side. She paid about $20 per month initially and now pays nothing for her HIP coverage.
But when asked whether she prefers HIP to the Hoosier Healthwise Medicaid program that covers her three children at home, she doesn't hesitate.
"I like their coverage way better than mine, because it pays for anything," Chestine said, noting that HIP doesn't pay for her dental or vision needs, and that it has co-pays for ER visits. "Definitely, the Hoosier Healthwise program is a lot better than the HIP program."•
Please enable JavaScript to view this content.