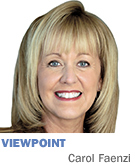 I moved back to Indianapolis, after having lived for years in New York City. My first Viewpoint column was published in 2007 and it was based on seeing this city with new eyes.
Living near Mass Ave in a historic building in an urban setting that showcases art, independent restaurants and theater, and watching this grow has been exciting. The opening of independent businesses such as Mass Ave Wine Shoppe, The Best Chocolate in Town and my new favorite, the Indy Reads Bookstore, has only continued to instill in me a sense of pride.
When I walk around and pass by the variety of stores, restaurants and homes here, I get a solid sense of the neighborhood. It is a patchwork of creativity and ingenuity. It's comforting how it all works together. There is a lot of organic diversity intermingled among historic buildings, old alleyways, and whimsical and wonderful artists' murals and sculpture. The neighborhood invites you to notice details and participate.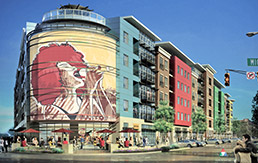 (Rendering courtesy of Schmidt Associates)
The plan recently unveiled to replace the fire department on Mass Ave combines retail, apartments and entertainment, capped off by a giant LED screen with changing electronic images.
I am all for creating a thriving community, but imposing on everyone a large, flashing electronic screen does not come across as an invitation, but a distracting in-your-face visual shout that is at odds with the environment.
Click here to read Wayne S. Schmidt's response to the Mass Ave structure.
Aren't we already sufficiently bombarded by changing images flashed in our faces? Don't we have enough of that to contend with in restaurants, bars, airports—even the tiny devices we hold in our hands and can't pull ourselves away from?
In New York City, Times Square is Times Square. Myriad flashing lights belong on Broadway. The Meatpacking District's businesses inhabit spaces once used for, well, packing meat. Yet the wild divergence works and is a success story. Flashing screens that scream for attention do not belong there and they know it.
Bigger and flashier do not a prospering community make (unless you live in Times Square or Las Vegas). I love this neighborhood. Please don't ruin it.•
__________
Faenzi is an author and public speaker. Send comments to ibjedit@ibj.com.
Please enable JavaScript to view this content.