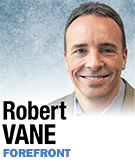 I simply can't imagine that there's been a more interesting era of politics in the Hoosier State than the one in which we are living.
I am still absolutely stunned that Tony Bennett lost his race for re-election as superintendent of public instruction. Bennett has been a remarkable leader for education reform. As a parent of a sixth-grader and a fourth-grader, I can only hope Bennett stays in Indiana and continues to work for reform and school accountability.
So, who won election night 2012?
The absolute biggest individual winner is Gov.-elect Mike Pence. He and his team ran a positive, issues-based campaign and deserved to win. Pence is going to be a remarkable governor. Following Mitch Daniels is no mean task, but the man from Columbus is up to it.
Here's an astounding fact—neither Pence nor Daniels ran a single negative ad in their campaigns. In this age of political carpet bombing, this is simply amazing.
Brian Bosma is another big winner. I am not sure if anyone's success at leadership has been more overlooked than Speaker Bosma's.
In the face of the Pat Bauer Party's exodus to the state whose motto should be "We Indict Our Governors," Bosma kept his caucus together and his messaging clear and consistent. Increasing the number of Republican representatives about 20 members in only six years is another remarkable achievement.
How about Greg Zoeller? He received more votes than any other Republican on Indiana's ballot, but his triumph has been overshadowed by results in other races. Zoeller dramatically increased his margin of victory from his first win in 2008, and that is a direct result of his superb stewardship of the Attorney General's Office.
Daniels gets my vote as another huge winner on election night—ironic, perhaps, given the fact that he said no to a presidential bid. Why, then, is he on my list? Simple. A term-limited chief executive has five elections: election, mid-term, re-election, second mid-term and successor. Most chief executives are fortunate to win three of the five (Ronald Reagan, Bill Clinton and George W. Bush won only three), but Daniels won four out of five (with his only setback being the 2006 mid-terms).
Every governor wants to be succeeded by a member of his own party, and Daniels will have that honor. Additionally, don't underestimate the effect of Daniels' popularity on Pence's winning bid.
Taken as a whole, the Indiana Republican Party is my final big winner. Yes, the Mourdock loss and the Bennett upset sting, but what about the group of new congressmen and congresswomen Indiana is sending to Washington?
Todd Young, Todd Rokita, Larry Buschon and Marlin Stutzman were already in D.C. making the case for Hoosier common sense. They are now joined by Luke Messer, Jackie Walorski and Susan Brooks.
Brooks' election to Congress might prove to be the most important event for the Indiana Republican Party in the next 20 years. All of our representatives are smart, sharp and solid in their conservative philosophy, but Brooks is different.
She is a one-woman antidote to the moronic (but, given the results of the presidential election, effective) Democratic mantra of a Republican "war on women." She will be in high demand as a speaker and commentator—both in Indiana and Washington, and that is great for the GOP brand.
We won some, we lost some. But Pence is the next governor, and that means election day 2012 was a great day for the Indiana Republican Party and all Hoosiers.•
• Vane, a U.S. Army veteran, has worked for elected Republican officials including Indianapolis Mayor Greg Ballard, and currently owns the public relations firm Veteran Strategies. Send comments on this column to [email protected].
Please enable JavaScript to view this content.