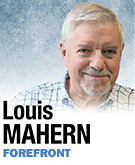 So, you have been elected to the Legislature.
Robert Redford once starred in a movie called "The Candidate." At the end of the film and after an improbable win for the U.S. Senate, the Redford character asks his consultant, "What do we do now?"
You might not be asking yourself this, but you should.
Here are some words of advice, based on 46 years of participation and observation.
Learn and respect the process. From time to time, you will find yourself torn between short-term advantage on a particular issue and an orderly legislative process. Opt for the rules, the written and unwritten forms—"the way things are done." It makes it much easier to get along with your fellow legislators.
You now have two constituencies, the one that elected you and your fellow legislators. Treat your colleagues the way you do your voters. Schmooze them, inquire after their families, socialize with them, and do it on both sides of the aisle.
The other party is not composed of aliens. They want the same things you want—to get re-elected, to make things better for their constituents, and to make a name for themselves. If you can help them without hurting yourself, by all means do it.
Do not go to the microphone and make a speech every time you have an opinion. In fact, don't go to the microphone at all for at least the first six weeks. When you eventually do go to speak, make sure you know what you are talking about. There are sharks in those debate waters and they bite. You have at least two years to make a splash. Be sure there is water in the pool before going off the high diving board.
Once you have been assigned a committee, read the bills that have been sent to that committee. You can't read all introduced bills. Don't even try. If you have questions about a bill assigned to your committee, talk to the bill's author. He or she will be flattered that you have taken the time to read the bill. You might end up voting against it, but you will have shown the author honest consideration. Don't ever forget, you will undoubtedly need this colleague's support on something you would like to get done.
Once your six weeks are up and you are itching to share your wisdom with the rest of the chamber, don't do it unless you have something that will actually contribute to the deliberations. Your colleagues will listen much more closely when your trips to the mike are rare.
Pick out the colleagues who seem to make the most sense, who seem to share the same life view as you. More often than not, you will find yourself relying on what you hear in debate to aid in your decision-making. You will gradually come to realize that some of your colleagues actually know what they are talking about.
Develop you own area of expertise. When your caucus leader asks for your committee assignment preferences, think about your interests. Subject-matter committees offer opportunity to develop an area of expertise. If you demonstrate that you have studied an especially complicated issue, cultivate members across the aisle who have the same interest and are interested in a bipartisan approach; you can actually get things done even if you are in the minority.
Lobbyists serve as an important source of information. However, the information they provide will not be all the information you need. Under no circumstances believe them when they tell you how clever, smart, witty and good-looking you are. They are paid to tell you these things.
Don't do anything that you don't want seen in the media.
Have fun.•
• Mahern has been an assistant to U.S. Rep. Andy Jacobs and U.S. Sen. Birch Bayh and served in the Indiana Senate. Send comments on this column to ibjedit@ibj.com.
Please enable JavaScript to view this content.