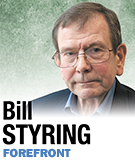 November means Thanksgiving. For thousands of Hoosier grade-schoolers, it means something special: a four-day school furlough, a special meal and maybe a visit from that crazy Uncle Jerry who comes by only once a year.
The last few weeks of school before the holiday are special, too. Teacher maybe lets the kids make paper feathers for a paper turkey. Some teachers may have told the kiddie version of the Thanksgiving story.
From your school days, you remember the story of Thanksgiving as heard by 8-year-olds. It goes something like this: Pilgrims land at Plymouth Rock. Are met by smiling Indians. Smiling Indians help Pilgrims through first hard winter. Teach Pilgrims to grow maize. Grateful Pilgrims host big splash with turkey, cranberry sauce and pumpkin pie where everyone pigs out as one happy family, and everything is kumbaya.
As you might suspect of a story told to small children, it didn't happen that way.
William Bradford, governor of the Plymouth colony, fortuitously left his diary to history. The real story he tells is much different.
You see, the Pilgrims were small "c" communists. Lands were farmed in common and everything went into a common storehouse from which everyone drew sustenance.
Except there wasn't much going into the common storehouse. As Bradford wrote, "The menne suffered few the labours of the land for they preffereth slothe whilst taking their share of bountie from the labours of otheres."
Bradford writes that the Pilgrims nearly starved to death in their first two years. In a gut-wrenching move that went against all Pilgrim principles, he took the desperate measure of dividing up the land into private plots. Everyone kept what they produced except what they willingly gave to a deserving neighbor who, through no fault of his own, had some bad luck.
Guess what? That's when they had their big feast. Private property and (yes) self-interest produced plenty.
In "The Wealth of Nations," one of two great documents written in 1776 (the other the Declaration of Independence), Adam Smith summarized the lesson the Pilgrims learned the hard way:
"As every individual endeavors as much as he can … to employ his capital … that its produce may be of the greatest value, every individual labors to render that annual revenue of the society as great as he can. He generally neither intends to promote the public interest nor knows how much he is promoting it. … I have never known such good done by those who affected to trade in the public interest."
I can't help but marvel at how this simple principle is everywhere if we just look for it.
Consider the Citizens Energy ad often running in Forefront. Citizens is converting its Perry K plant from coal to natural gas. Why? Because natural gas has become ridiculously cheap in the last several years because of a new technology called hydraulic fracturing. Everyone who uses the output from Perry K will benefit for decades.
Who engineered this marvel? It didn't come from the U.S. Department of Energy. There were literally thousands of people, none of whom were working for "patriotic sacrifice" and none of whom had the foggiest idea they were working for Perry K's customers.
No, it was those evil energy companies that stood to make a bunch of money if they could find super-abundant natural gas by devising a new way to get at it. As far as I know, there was not one nickel of federal subsidy involved.
Maybe we should ditch the smiling Indians/we're-all-in-this-together version and come with a way to teach our children about the real meaning of that first Thanksgiving.•
• Styring is an economist, a former Indiana Chamber of Commerce lobbyist, and a former senior fellow at the Hudson Institute. Send comments on this column to ibjedit@ibj.com.
Please enable JavaScript to view this content.