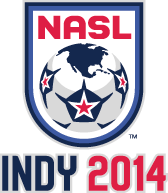 A group of Indianapolis business executives is laying the groundwork to launch a professional soccer team here in 2014.
Members of the group won't identify themselves, but this month they launched a website—indyprosoccer.com—seeking season-ticket commitments. They're also taking suggestions for a name and colors for the team, which would play in the North American Soccer League but aspire to join Major League Soccer, the highest-level professional league in the country.
The group has hired Peter Wilt, a 25-year soccer executive and the former founding general manager of Major League Soccer's Chicago Fire, to advance its bid.

Clark
Faegre Baker Daniels partner and former Republican state senator Murray Clark said he knows the members of the group and is confident they have the juice to start and operate a pro soccer team.
"The business acumen of this group is at a very, very high level," said Clark, board chairman for the Indiana Soccer Association, a group that has 60,000 youth and 6,000 adult members. "Peter Wilt is well known in soccer circles nationally and brings a real measure of credibility to this effort. This is a very substantive initiative."
Clark said he is not a part of the local group, and he and others who have had contact with members declined to identify them.
Officials for the city and Indiana Sports Corp. also have been informed of the plan, and in general, Mayor Greg Ballard supports the idea of having a professional soccer team here.
"Mayor Ballard has made it a high priority to expand our presence in international sports, and soccer is one of the most popular sports in the world," said Marc Lotter, the mayor's communications director.

Ozdemir
Ersal Ozdemir, founder and president of Indianapolis-based development company Keystone Group, is not yet part of the group, but he said he's met with Wilt, and if the plan gains momentum, he will seriously consider jumping in.
"I grew up playing soccer and I think it would be a great fit here," said Ozdemir, a native of Turkey. "Soccer is an international sport, and Indianapolis is an increasingly international city, so I think the time could be right."

A deep-pocketed businessman like Ozdemir is the type of investor that could give the effort instant credibility, sports marketers said.
Wilt was hired by the group last month and said a decision will be made in the next 60 days on whether to proceed with the effort to land a franchise in the nation's second-most-popular pro league for the 2014 season.
If the effort is successful, the Indianapolis team would be the 12th in the North American Soccer League, Wilt said. The group's plan calls for playing in an existing facility for the first few years, then building an 8,000- to 10,000-seat soccer-specific venue, possibly downtown.
The temporary venues under consideration include Lucas Oil Stadium, Michael A. Carroll Track & Soccer Stadium at IUPUI, Kuntz Memorial Stadium on West 16th Street, Butler Bowl, and Grant Park in Westfield.
Season tickets for 15 home games would be in the $100 to $350 range, while single-game tickets would likely be between $10 and $28, Wilt said. The NASL season runs from March to November.
Eventually, the group would like its venue expandable to 20,000 seats and would seek a franchise in Major League Soccer, Wilt said.
"Having an MLS team in Indianapolis is not beyond reason," said Wilt, a Milwaukee resident. "There's an appetite for soccer in Indianapolis that wasn't there 10 or even five years ago."
David Morton, president of Indianapolis-based sports marketing firm Sunrise Sports Group, thinks the timing is right for such an initiative.
"Given the growth in soccer participation here, I think it's only a matter of time before Indianapolis has a professional soccer team," Morton said. "Sure, Indianapolis is a crowded sports marketplace, but it's also a successful sports markeplace."
NASL officials confirmed they've been contacted by the local group and are exploring adding an Indianapolis franchise to the 2014 schedule.
"If you look at the profile of our current teams and markets, Indianapolis would fit in nicely," said NASL spokesman Kartik Krishnaiyer.
Indianapolis' market size and the lack of another soccer franchise nearby is what makes the city "ideal," for the NASL, he added. "Indianapolis is a very soccer-savvy market with lots of organized supporters already," he said.
Youth soccer participation has grown about 20 percent in the last decade, according to local league organizers, and the strength of college soccer programs at Indiana University and the University of Notre Dame—which have both won national soccer championships—as well as at Butler and Purdue universities, make this an ideal market for a pro team, Clark said.
"There's a growing built-in following," he said.
A downtown soccer venue would be great "from the soccer association's standpoint," Clark said, but how that would be financed would be up to team owners and city leaders. "With the city's can-do attitude with respect to projects like this, I hope it's doable."
While heavy hitters in the business community are needed to launch the team, Wilt said it's important the effort be all-inclusive.
"A top-down approach won't work," Wilt said. "Soccer is a grass-roots sport by nature because of the large participatory base, and to succeed you have to include stakeholders at all levels. That's why we've launched the website and are soliciting lots of input. We need the entire soccer community here to buy in for this to work."
This is not the first attempt to operate a pro soccer team here.
Most notably, owners of the Indianapolis-based Indiana Blast, which competed in the United Soccer League's D-3 Pro League, A-League and USL Premier Development League from 1997-2004, had grand plans of opening a 10,000-seat soccer-specific stadium in Lawrence. They even had an option on land near Fort Benjamin Harrison.
For a time, the team had a solid following, attracting more than 3,000 fans to some games. But eventually, the team ran out of momentum and the family ownership ran out of cash.
Operating an NASL team would cost $2 million to $4 million annually, sports business experts said, while operating an MLS franchise would cost $10 million to $14 million per year. It would cost a "low -even-figure amount" to launch an NASL franchise, Wilt said.
"I'm confident," headded, "this group has the local connections and the financing to start and operate a top-notch team."•
Please enable JavaScript to view this content.