Some food items are built for travel. The basic hot dog, for instance. And the New York-style pizza slice.
Not falling into that category: the taco.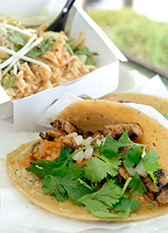 The simple menu at La Chinita Poblana includes inventive tacos. (IBJ Photo/ Perry Reichanadter)
This law of culinary physics poses a challenge for the folks behind La Chinita Poblana (927 E. Westfield Blvd., 722-8108). This recent addition to the Broad Ripple landscape, taking over the former home of Boogie Burger, has an interesting angle (Asian-influenced Mexican), a kitchen staff that knows how to deliver on its limited menu, and a great attitude.
What it doesn't have are seats.
There's a counter for standing, but La Chinita Poblana's lack of a restroom keeps the place from offering tables and chairs. During the day, in season, that problem is alleviated by the open seating next door (The Monkey's Tale does business only in the evening), but otherwise, it's either take out or stand.
Based on a few recent visits, my advice is to stand, the better to enjoy the small-but-flavorful $3 tacos while they are still hot. Options include the Chicken, bathed in a tamarind-cumin marinade with sweet peanut chile de arbol salsa and a hint of mint; Skirt Steak, marinated in red curry with avocado crema; and, best of the ones I tried, Red Braised Pork Carnitas. My only disappointment was the Tilapia taco, which was overwhelmed by the chipotle mayo.
Other options include Peanut Noodle Salad ($5.25), which would have worked better as a side; Hot and Sour Soup ($2.99); and Fresh Guacamole and Chips ($4.50). There's also Bubble Teas ($3.99), for which you can pick from a half dozen fruits and add large or small bobas (balls of tapioca that require a larger-than-usual straw) to make a playful smoothie variation.
Desserts? I asked at the counter and was steered to the Tres Leches Flan ($3.25). It proved a good, not-too-sweet choice—although even encased in a plastic container, the caramel had soaked through the bag by the time I took a few steps next door to sit down.•
__________
Third in a month-long series of reviews of keep-it-simple restaurants.
Please enable JavaScript to view this content.