Most of my attention in this column focuses on individual productions—music, theater, dance and visual art by professionals striving for excellence.
But in this week of Thanksgiving, I'd like to focus instead on arts places more centered on the creating than the creations and more about community than about artistic results. Visited all on a single Saturday, I ended the day both impressed with the work being done and convinced of the essential nature of such centers.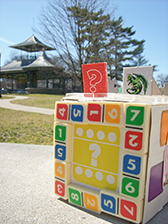 Garfield Park Arts Center offers a wide range of interactive programs. (Photo courtesy of Garfield Park Arts Center)
First stop, Garfield Park Arts Center, which was hosting a Spirit & Place Festival event called "Live the Game" that promised to use "the park itself as a giant game table." That wasn't quite the case. Activity was focused inside the center itself rather than spread throughout the park. But what was there reflected a strong sense of community spirit from both the organizers and the players. Visitors—families, young couples, teens, seniors—tried biggie-size memory games, raced balloons, and rolled oversized dice to move throughout the building. Coming off like a particularly creative church basement festival, it freed all ages to think playfully (and cheaply).
Such special events certainly help get newcomers in the door. But GPAC offers affordable
art classes and gallery shows all year, introducing art to people who might not have ever set foot in a gallery or museum. You can find more information at www.gpacarts.wordpress.com, but as is so often the case with struggling arts organizations, the site isn't always up to date. Better to just stop in, before or after a stroll around the park and a visit to the Garfield Park Conservatory.
And, before I move on, allow me a reminder that Garfield Park is just a few easily made turns off Interstate 65. Many in Indy have a confused belief that anything south of South Street might as well be Louisville. Come on, folks, it's a small town. Embrace that. Go.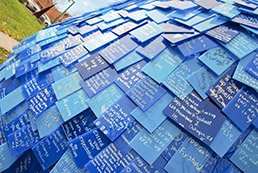 Indianapolis Art Center's "Crescendo," by Beth Nybeck, adds a personal touch to its ArtsPark. (Photos courtesy of Indianapolis Art Center)
Next stop: the Indianapolis Art Center, better known thanks to its top-notch art classes and the high-profile Broad Ripple Art Fair.
The IAC should be a mandatory stop for anyone strolling on the neighboring Monon Trail if, for no other reason, than to visit the ArtsPark. My Saturday stop was to see its latest addition, "Crescendo" by Beth Nybeck.
For months, the Kansas City artist and IAC staff have been connecting with the community, asking the question, "What have you discovered?" Those thoughts have been paint-markered onto UV-resistant, blue-tinted Plexiglas squares and artfully sculpted by Nybeck into a 19-foot-wide, 12-foot-tall, 6-foot-deep sculpture. The piece could be read as a sideways teardrop, an arching whale, or an abstract horn of plenty. Whatever your interpretation, it's a beautiful work that's compulsively readable, offering insight into the thoughts and dreams of about 6,000 participants. Somewhere on it is my tile, which says, "Be Here Now." I'm glad I was.
For more information on the Indianapolis Art Center, visit www.indplsartcenter.org/.
My last stop on my art center Saturday was the Service Center for Culture and Community, a new edition to the transitioning Lafayette Square landscape.
Big Car, an arts collective formerly anchored in Fountain Square, moved here in 2011, converting a former tire dealership in the Lafayette Square Mall parking lot into a multi-use home for classes, talks, theater and art. For more information on the Service Center, visit www.bigcar.org.
By Saturday evening, activity was focused on a production by NoExit Performance, which often uses the former repair bays as a theater space. But there were signs of other activity, including group fitness classes, art workshops and writing programs.
A wall from the previous weekend's "Found" show featured scraps of serendipitously discovered letters, notes and lists, each accidentally opening up a new world. The big windows indicate a desire to embrace rather than hide from the surroundings. And a DIY, open-to-ideas sensibility pervades the place, effectively stripping the intimidation factor away from art. As home to events ranging from a Halloween game of zombie tag to the cultivation of a community garden, the Service Center's presence borders on the miraculous. It's a beautiful green shoot, rising up through the concrete.
Here's hoping all three of these important centers continue to grow.•
__________
This column appears weekly. Send information on upcoming arts and entertainment events to lharry@ibj.com.
Please enable JavaScript to view this content.