Lou Harry is on vacation this week. In lieu of his regular column, here's an excerpt from his new e-book, "The Movie Uncyclopedia: Everything You Think You Know About Movies is Wrong, Wrong, Wrong."
Not every actress is obsessed with youth
You see it all the time: Hollywood actresses doing everything they can to manage the realities that time imposes on their pricy features. They lift, pull, tuck and spackle in order to continue to be able to play hottie ingénues.
Not Maggie Smith.
Magnificent Maggie—best known to these kids today as Minerva McGonagall in the Harry Potter flicks—has been aging gracefully (and then some) since, well, since she created the iconic iconoclast teacher in 1969's "The Prime of Miss Jean Brodie." From then on, she's had no qualms about playing her age (and then some). In fact, Smith was only 57 years old when she played 80-ish-year-old Wendy, giving an incandescent performance that is arguably the only reason to re-watch "Hook."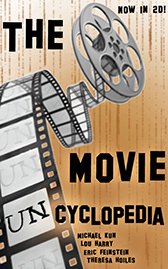 (Cover design by Benjamin Feinstein)
Of course, Smith doesn't hold a candle to Angela Lansbury, who played Elvis Presley's 54-year-old mother in "Blue Hawaii" when she was only 36, and Laurence Harvey's 59-year-old mother in "The Manchurian Candidate" when she was only 37 (and Harvey was 35 at the time).
Then there's Jessie Royce Landis, the not-as-well-remembered-by-people-who-don't-watch-Turner-Classic-Movies-24-7, who played Cary Grant's mother in "North by Northwest" … when both were the same age. Mama Mia!
Superman's arms are not going to save you
"Oh my god, she's falling!"
And so she is, whether she's Lois Lane or Spiderman's upside-down kissy friend, or one of Batman's parade of women.
"But, hooray! Here comes our hero, swooping in to grab her before she turns into a pavement platter. Yea!"
The problem with this oft-played cinematic situation is this: Human beings, with arms out stretched, fall at a rate of about 120 miles per hour by the time they reach terminal
velocity (the speed at which acceleration stops because of air resistance—which a falling person reaches in about 10 seconds).
Which is all fine when you are skydiving. When you're skydiving, you have a chute to open, and that chute slows your fall. But it's not so fine when you are about to collide with the biceps of a man of steel without decelerating first.
Whether she makes contact with the sidewalk or the costumed-guy's arms is irrelevant. Our gal is still going to go splat—which doesn't make for a particularly interesting superhero sequel.
Sorry, Lois.
Mr. Smith did not always play a nice guy
I grew up thinking Jimmy Stewart was the guy I should be. Unlike Cary Grant, who was too smooth for me to ever be, Stewart-like humanity seemed achievable. If we set our hearts and minds to it, any of us could be as good a man as "It's a Wonderful Life's" George Bailey or the dude from "You Can't Take It With You." If it turned out we were a bit loony, well, we could aspire to be as lovably loony as the guy who gets chummy with the titular invisible rabbit in "Harvey."
But take a look a little deeper in the Stewart canon and you'll see that Mr. Nice wasn't always so nice.
I'm not talking about the way he reams out his kid's teacher—and her husband—in "It's a Wonderful Life." Or the way he slugs the newspaper guy in "Mr. Smith Goes to Washington" or slams Dan Duryea's head into a saloon counter in "Winchester 77." Or, for that matter, his nutso-kookiness that leads to Kim Novak's death in "Vertigo."
No, I'm talking about "After the Thin Man," in which Stewart plugs three people in cold blood before (surprise!) Nick and Nora Charles finally peg him for the murders.
Yes, I just ruined "After the Thin Man" for you. Sue me.
The original is not always better than the remake
We have been trained to believe that remakes are never as good as the original. And that view is supported by, well, almost every remake, from "The Longest Yard" and "The Ladykillers" to "Psycho" and "Poseidon."
But there are exceptions. A surprisingly large number of them. To name six:
"The Fly." Would you really rather revisit the hoary Vincent Price version than rock along with the gory-funny Jeff Goldblum take? Or, let me put it to you this way? Patricia Owens or Geena Davis?
"Ocean's Eleven." Sorry, but the original Rat Pack version is unwatchable. The remake? Blissful fun. It looks easy here, but watching the two inferior sequels will make you appreciate Clooney and company's first effort even more.
"A Star is Born." I can barely remember the Janet Gaynor original and have no desire to track it down again, as good as it may be. But good luck finding anyone who would put it above the Judy Garland/James Mason remake. As for the Streisand remake of the remake, let's just pretend it—and Babs' perm—never happened.
"The Parent Trap." Forget everything you think about Lindsay Lohan now. The kid was once a star with enormous potential. This is that "once."
"Dirty Rotten Scoundrels." OK, so the Steve Martin/Michael Caine film is no masterpiece. But it holds up far better than the Marlon Brando/David Niven version, "Bedtime Story." Plus, when you think "funny," do you really think "Brando"? Just asking.
"His Girl Friday." I'm second to none in my appreciation of the play "The Front Page" and its original film version. I even like the later, problematic Jack Lemmon/Walter Matthau version. But the remake I'm pointing you toward here is the one with the title change, the one with the lightning-fast, very funny dialogue that helped define screwball comedy. A good original. A great remake. Let me know when they're going to run it on Turner Classic Movies. I'll be there. Again.•
__________
This column appears weekly. Send information on upcoming arts and entertainment events to lharry@ibj.com.
 
Please enable JavaScript to view this content.