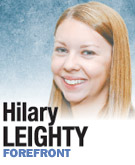 The Republican Party needs a makeover. After the devastating losses suffered Nov. 6, pundits and politicos alike are asking one question: What will become of the party? As a 21-year-old who will be voting for many years to come, I think the party must make major changes to remain relevant and attract votes of future generations.
Many commentators blame the Republican losses on Mitt Romney. Many claim Romney was too moderate, that he resisted taking clear stands on important issues or that he could not inspire true conservative activists.
On the contrary, I believe Romney's ideals represent the direction the party must take.
Republican primary voters forced the Massachusetts moderate into an ultra-conservative position on several issues. Without doing so, he would have lost the nomination. Romney's move to the far right made it difficult to move back to the center for the general election and appeal to independents and disenfranchised Democrats.
To win future elections, the GOP must broaden its base or appeal to more independents. To accomplish this, the GOP must learn to compromise on social matters such as marriage equality and women's issues. Party leaders, candidates and campaign staff are hesitant to compromise on such issues. Most believe the party will lose the votes of their base, and therefore have an even slimmer chance of winning.
Unfortunately, the base isn't enough to win a presidential election now. It's time for a new approach.
Only 38 percent of Republicans believe abortions should never be allowed. The pro-life movement is filled with decent, hard-working individuals dedicating time to a cause greater than self. In our society, this is always positive.
However, just because the pro-life movement is the loudest faction of the Republican Party doesn't necessarily mean it's the majority. The party must compromise to attract young, educated women and close the gender gap.
Taking social issues further, most Republicans in my generation are completely apathetic toward gay marriage. College Republican groups everywhere embrace gay members, and are thrilled to have more volunteers working for our cause. The Republican Party's war against gay marriage is a losing battle that will only result in future generations' feeling much more comfortable in the Democratic Party.
Unfortunately, the Republican Party's relentless fixation with social issues hit home in Indiana this election cycle. Women everywhere were offended by Richard Mourdock's easily avoidable rape comments.
Considering the economic hard times, most votes in the U.S. Senate in the next few years will revolve around fiscal matters, not abortion. Mourdock's rape comments undoubtedly cost Hoosiers a Senate seat that should have easily stayed red. It's a shame Republicans let such an irrelevant social issue decide their fate.
The Republican Party is supposed to be the party of small government. As small-government conservatives, how can we allow government to regulate the most private parts of our lives? We have a strong message of fiscal responsibility, low taxes and balancing budgets. Our message should appeal to voters even more in times of economic hardship and irresponsible spending legislated by congressional Democrats and supported by the White House.
For the last two election cycles, the party has let social issues bring us down. Messages of personal responsibility and even peace through strength resonate with young voters. Messages of government intervention in the bedroom do not.
The GOP must evolve on social issues and embrace a younger generation of voters, or risk extinction.•
• Leighty, an Indiana University sophomore double majoring in marketing and management, is president of the IU College Republicans. Send comments on this column to ibjedit@ibj.com.
Please enable JavaScript to view this content.