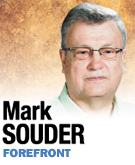 If you are running for a statewide office in Indiana, what matters most: likability or substantive issues?
In applying this to the 2012 election, let's take the toughest case first: Tony Bennett versus Glenda Ritz. There is no doubt Bennett is a conservative and Ritz is a liberal in terms of education issues. I think it's fair to say, based upon his own testimony, that Bennett wasn't trying to win a likability award. Most voters would probably say Ritz was more likable, though it would mostly be based upon her photograph if they even knew that much about her.
And the race clearly was not based upon competence. In this case, education issues probably switched enough teachers and school supporters to tilt the election.
The result also suggests that it probably isn't wise to pass out bad grades just before an Election Day.
While Sen. Richard Lugar's 2012 primary campaign ran some of the nastiest personal attack ads ever seen on a statewide level, his reservoir of personal good will helped offset that impact. Issues, especially if one counts age and residency, resulted in his being crushed by Richard Mourdock.
Obviously, issues are more likely to matter in a primary because the ideological intensity of those who participate in primary elections is greater than those who vote in presidential elections.
In the last 40 years of voting (1972 on), we have elected Bowen, Orr, Orr, Bayh, Bayh, O'Bannon, Daniels, Daniels and Pence to be governor. When Mitch Daniels is the tough guy, it is a pretty nice list. Furthermore, you can certainly plausibly argue that Kernan and Long were not perceived as more likable than Daniels.
In this year's gubernatorial race, while John Gregg tried some weird humorous ads and had been known as a fairly likable fellow, his campaign was nasty. Mike Pence, amazingly, pretty much smiled his way through to the election.
Over those same 40 years, we have elected to the U.S. Senate Bayh the elder, Lugar, Quayle, Lugar, Quayle, Lugar, Coats, Coats, Lugar, Bayh the younger, Lugar, Bayh the younger, Lugar, Coats and, in 2012, Joe Donnelly.
The personality traits of these officials are far closer than their ideology. I would argue that the Bayh family leaned heavily on being likable, though Birch was a better back-slapper than Evan. But Evan was the picture-perfect family guy who made caution his ideology. Doc Bowen was Marcus Welby M.D. and Daniels clearly lived in an RV when he wasn't a guest in people's homes. Lugar was a gentleman who made all Hoosiers appear brainy to outsiders.
Not only was Donnelly's campaign to portray Mourdock as the guy yelling "my way or the highway" brilliant, but Mourdock never really countered it. "Inflicting his views" was not very nice. Getting portrayed as claiming "God planned rape" didn't even make God seem nice.
Mourdock's family was absent from his marketing. Nothing was said about his years in the mission field, which would have humanized him a bit, or experience as a county commissioner.
We saw likable Joe with his family, washing his car, and smiling.
Donnelly and I served somewhat different visions in Washington. Yet when I flew home in midweek from voting to see my first granddaughter immediately after her birth, in the room with my daughter, Brooke, and granddaughter Reagan were flowers. They were from Donnelly.
I knew all those named. Their likability was not just an image. Hoosiers do prefer their top officials to be nice. That's the way we are.•
• Souder, a former business owner and Republican representative of the 4th Congressional District, is a political commentator living in Fort Wayne. Send comments to ibjedit@ibj.com.
Please enable JavaScript to view this content.