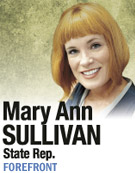 Some have declared the outcome of the state superintendent's race to be a wholesale rejection of recent changes to public education in our state. Such a pronouncement is an oversimplification at best.
The election of a slew of pro-reform candidates, from the Governor's Office down to the Indianapolis Public Schools Board, contradicts the argument that the election was a referendum on new education policies.
In fact, the number of reform-minded candidates elected versus those who campaigned against recent changes is not even close: advantage reform.
During my two terms in the Indiana House, legislative surveys and neighborhood meetings all indicated strong public support for the underlying principles of the recent education reforms: more choices for families, consequences for chronically failing schools, recognition of and respect for the role of the teacher in student performance, and increased autonomy at the school-building level.
As sweeping as Indiana's new education initiatives may seem, they represent just the tip of the iceberg of what is left to do in order to effect real change. Implementing Common Core, attracting and retaining great teachers, fully using the power of technology, funding early learning, better aligning our education systems with work force needs, scaling successful school models, and closing persistent achievement gaps are challenges we have yet to address.
President Obama has recognized that transforming public education is both an urgent need for our national economy and a moral imperative for ending poverty. Under Gov. Daniels' watch, Indiana has moved to the forefront in creating educational conditions that many Democrats and Republicans agree will position us to be globally competitive. Turning back the clock to a pre-reform era is simply not an option.
This is not to say November's election hasn't complicated the future of education reform. Neither staying the course of recent reforms nor adopting new ones will be easy. Representatives of both parties must resist the temptation to retreat to the partisan divide.
For Republicans, that means ignoring calls from the far right to reject Common Core, which would create consistent, college and career-ready standards for all students. Implementation of Common Core is a priority of the business community, and it should make its support clear.
Republicans also need to acknowledge the limitations and appropriate uses of standardized testing. Deeper learning should be everyone's goal. Documenting the acquisition of 21st century skills will require different kinds of assessments. Accountability needs to improve by incorporating meaningful, multiple measures of success.
Democrats should continue to fight for greater teacher inclusion in policymaking, but not at the expense of broader goals such as ensuring every family, regardless of ZIP code, has access to a high-quality education. Teachers matter mightily, and they clearly feel they have not had a seat at the table. They are important stakeholders, but they are not the only stakeholders.
Democrats must also lose their exaggerated fear of "privatizing" public education. Private enterprise has always been a key contributor to transformational innovation. Democrats need to be as open to new developments in the education sector as they are to new technologies in energy, health care and defense.
Indiana still has much work to do. I hope our newly elected state leaders will put campaign rhetoric and disagreements behind them and engage in the kind of thoughtful, productive and optimistic policy discussions that Hoosiers need and deserve.•
• Sullivan, a former Democratic state representative, was unsuccessful in her bid to unseat Brent Waltz in the redrawn state Senate District 36. Send comments to ibjedit@ibj.com.
Please enable JavaScript to view this content.