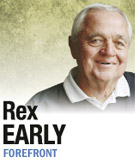 Are you tired of hearing about politics and the election? Then shake hands with a brother Elk, because I, too, am glad it's over.
Despite our feelings about politics, we must still play the blame game.
On the national level, I think we needed a party chairman who was a bomb thrower. Reince Priebus might be a nice guy, but he is mayonnaise on white bread. As Leo Durocher said, "Nice guys finish last," and we did that. We needed someone like Newt Gingrich or Fred Thompson. I would have loved to see Newt take on the talking heads on the Sunday morning TV shows.
I felt our national committee made a mistake in choosing Tampa, Fla., for our national convention. It's usually hot in Florida in August, and second, did anyone tell them August is hurricane season? The convention lost one whole day of free national TV because of the storm. I am sure they chose Tampa because we needed to carry Florida in November. It didn't work.
I was disappointed that our convention did not take the time to honor our men and women in the military. With the exception of having a color guard of Purple Heart veterans, we were mute on our vets and our current military men and women. The Democratic convention spent considerable time honoring our troops.
On the same subject, we should have had congressman Allen West be one of the speakers. He is a decorated combat veteran who is African-American.
What genius put together the Republican debates where the format was for all our pre-primary candidates to line up in a circular firing squad and open fire on one another? The Democrats loved it.
The next time Candy Crowley is the so-called unbiased moderator of a presidential debate we will be better off if we just walk out. She, of course, was picked by the unbiased debate commission.
I truly believe Mitt Romney would have been a good president. I do think he never really related to the voters who have had to work hard and scramble. He tried to relate, but when he came out in his denim shirt and Levis he looked like a multimillionaire in a denim shirt and Levis.
Is there any rule I have missed that says we must pick our candidates from people who have gone to Harvard or Yale?
On the state level, no complaints. They combined the national and state candidates, so they worked as a team. They made almost 2 million voter contacts by phone. They had 11 victory centers throughout the state where they coordinated grass-roots efforts. Besides electing a governor and attorney general, they carried Romney and elected 19 new state representatives, nine of whom won Democratic seats.
The same on the Marion County level: They manned the polls, coordinated volunteers, made phone calls, knocked on doors, and spent more than $400,000.
Unfortunately, the demographics of Marion County are working against Republicans. Using the Marion County surveyor's election as the base line for the party vote, it was 207,644 Democratic to 128,840 Republican. The Republican vote for last year's winning mayoral race was 92,525.
It is getting to be more difficult each election to elect Republicans in Marion County, although Mayor Ballard has won two straight elections where he was the demographic underdog.
Remember what my hero Ronald Reagan said: "Don't speak ill of a fellow Republican" and, if you vote with me 80 percent of the time, you are my friend, not the enemy.
Boy, we butchered those two Reagan rules this election cycle.•
• Early served in the Indiana House and as a Republican state chairman, as well as on the Republican National Committee. Send comments on this column to ibjedit@ibj.com.
Please enable JavaScript to view this content.