Changes could be coming to viewers' favorite local television news broadcast, no matter which station they watch.
Three of the four local TV news providers—WTHR-TV Channel 13, WISH-TV Channel 8 and WRTV-TV Channel 6—are looking for news directors.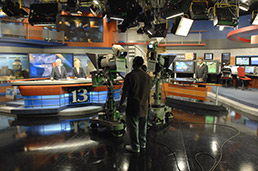 WTHR-TV Channel 13 found out its news director, Keith Connors, is departing in January. He is the third local TV news director to depart in four months. (IBJ file photo)
Those new hires are certain to ratchet up the competition in the local TV ratings war, and they may look to make on-air changes to increase ratings—or at the very least to withstand the onslaught from competitors under new leadership.
"I ran a TV news operation for 25 years, and I do not recall ever having seen a market, any market, that has had three news directors gone at one time," said Mike Cavender, executive director of Radio Television Digital News Association, a Washington, D.C.-based trade association. "It will be interesting to see what impact these new hires will have coming on board around the same time."
WXIN-TV Channel 59 is the lone local station with an established news director. Lee Rosenthal joined the Fox affiliate in January 2009. Since then, the other three stations have gone through two news directors each.
In August, WISH got rid of Patti McGettigan. In November, WRTV fired Kevin Finch, who had formerly worked at WISH.
Most recently, Keith Connors announced he is departing WTHR in January. None of them lasted more than 25 months in their jobs.
WISH and WRTV officials aren't saying why their news directors were terminated. Connors cited personal and professional reasons for leaving WTHR, industry sources said.
In all, there have been six news-director changes at three stations in four years.
"It's certainly an unusual situation, but it doesn't totally surprise me," said Dave Rust, the former director of broadcast and electronic media at Indiana University and a nine-year TV news veteran. "That job today is a pressure cooker."
According to the RTDNA, the average tenure of a TV news director today is just more than three years. And the turnover rate isn't expected to slow, given the addition of local TV news broadcasts, increased competition from the Web, pressure to build a station's own Web presence and ratings coming from New York-based Nielsen Media Research faster than ever.
"TV news directors are kind of like quarterbacks. They get too much credit when things are good and too much blame when things go bad," WXIN's Rosenthal said.
The pressure to perform has always been there for TV news directors, but the turnover hasn't always been so rapid. Bob Gamble was WRTV's news director from 1959 to 1986. Lee Giles served in that role at WISH from 1968 to 2003. Jacques Natz served as WTHR news director for a decade starting in 1996.
WXIN's Rosenthal finds the turnover of the most recent crop of news directors perplexing.
"These were all good news directors," Rosenthal said. "They all made their stations better."
Quick trigger finger
Station managers' trigger fingers may be a little itchier these days, Rust said, due to a combination of factors including increased debt loads from parent companies' recent mergers and acquisitions and a heavier reliance on revenue from ads sold during local newscasts. The high stakes ratchet up the competition for ratings.
Advertising sold during local newscasts has long been the biggest revenue source for stations, accounting for between 40 percent and 60 percent of the total.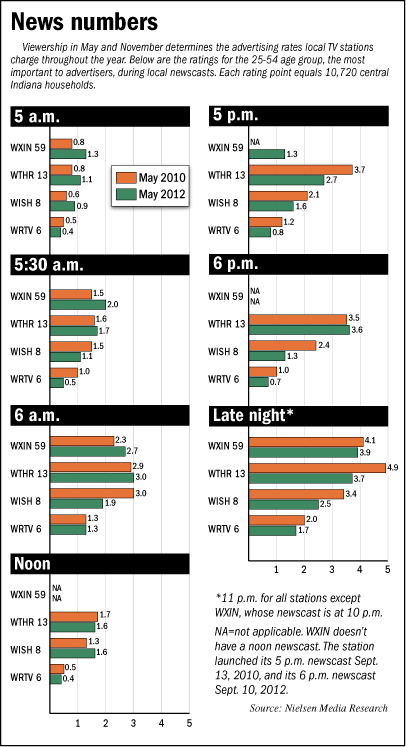 That piece of the pie has expanded in recent years as stations have expanded their local newscasts and national networks have cut or eliminated payments to local stations for carrying national programming. In some cases, stations have four times more news slots to fill, Rust said.
"That news director position is much more important than it was 40 years ago," Rust said. "News now is overwhelmingly the stations' primary engine to exert control over their own [financial] destiny. And the news director is the driver of that."
Local media buyer Bill Perkins expects the new news directors to push hard to increase their stations' ratings.
"Today, news directors know a bad book or two can cost them their job," he said.
Candidate qualifications
Station managers said there's competition for the best news directors. But RTDNA's Cavender said the three Indianapolis stations could be looking for three very different candidates.
"It's not one size fits all," he said. "The goals and objectives of the No. 1 station in the market are going to be very different from those further down in the ratings."
WRTV General Manager Larry Blackerby said he's looking for an "innovative" news director who is a "risk taker" and can help push his station out of the ratings cellar.
In December 2011, Ohio-based E.W. Scripps Co. bought WRTV from New York-based McGraw-Hill Cos., and Blackerby said there's been an emphasis and investment by Scripps in improving the news product. Recently, WRTV bolstered its news staff and opened a Monument Circle studio.
"With Scripps, we have a lot more resources," Blackerby said. "We're in this to compete and win. Our mission is to be No. 1 and the sooner the better."
While Blackerby said he "won't rush" the search for a news director, he said a nationwide search is under way and interviews already have taken place, adding that internal candidates also will be considered. Assistant News Director Terri Cope-Walton is serving as interim news director, and she is a candidate for the job, Blackerby said.
At WISH, General Manager Jeff White said he hopes to have his news director hired by January. Though he declined to say what qualifications he is seeking, he said candidates inside and outside the station are being considered. WISH meteorologist Steve Bray is serving as interim news director.
"We're not just a TV station producing newscasts at 5 [p.m.] and 11 [p.m.]," White said. "We're a news source, and that's a 24/7 commitment. I want to make sure we have a news director that understands that."
WTHR General Manager John Cardenas did not return calls seeking comment.
On-air shake up?
It wouldn't be surprising, Rust said, for the new generation of news directors to consider changing a station's direction and on-air personnel in a bid to boost ratings.
The main emphasis at WRTV, Blackerby said, will be adding investigative reporters.
White said he is happy with WISH's course and staff. "I'm looking for someone to accelerate that direction," White said. "Without a doubt we want to be a leader in the market."
WISH has been chasing WTHR as ratings leader for several years, and in some time slots they've had some success. In the last four years, however, WISH has had to contend with WXIN, which has greatly expanded its newscasts and taken the No. 2 and even No. 1 spot in some time slots.
In some key time slots, WISH has lost some ground in the last two years, and industry sources said that cost McGettigan her job.
WTHR would seem to have fewer reasons for major change than its competitors. While it has seen some ratings slippage in recent years, under Connors WTHR has held strong and is coming off a good November sweeps period where it saw a double-digit ratings increase in seven newscast time slots, according to Nielsen Media Research.
Perkins and other media buyers are keenly interested in how the jockeying affects viewer numbers. Perkins said he is shortening his buying cycles until the news director storm settles.
"We know the news director will affect the way a station presents the news and that can affect ratings," Perkins said. "So we'll have a close eye on the fallout."•
Please enable JavaScript to view this content.