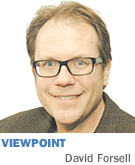 Over the past six weeks, I've had a couple of terrific opportunities to reflect upon the deepest things in life. One opportunity came thanks to the Greater Indianapolis Chamber of Commerce, of all things, and the other from a life-threatening disease.
In early October, the chamber's annual exchange took me and about 70 other Indianapolis folks to Portland, Ore., where we learned about their education reform efforts, mass transit and sustainability strategies, and neighborhood and commercial redevelopment successes.
What was most compelling for me, apart from the late-night, open-air, rooftop drinkies and conversation at our hotel, was the book we were given to prepare for the trip and the opportunity to spend time with the book's author, Lance Secretan.
Ol' Lance made some people pretty uncomfortable. His bright white smile and his presentation, infused with religious and New Age trappings, wasn't standard fare for a business trip. I'm sure he put some people off, and his polished approach, I'm sure, for others made him easier to tune out than a more predictable teacher.
I did my best to get past some of the sizzle, to the substance of Secretan's message about personal and professional success.
His premise? Part self-help, part business strategy, "The Spark, The Flame and The Torch" challenges the reader to ask what our purpose is in the world, how we'll act based on that self-knowledge, and what our legacy will be. Secretan makes the case that deep self-knowledge and its authentic application in life and work cannot help but inspire greater personal satisfaction and business success.
Finally, he argues for business leadership animated by, among other principles, love and authenticity.
Yes, love and authenticity. A number of my Indianapolis friends had a hard time with that. How could they possibly operate from these principles in their work environments and not be sued or chewed up?
Fast-forward 14 days. I traveled to the National Institutes of Health in Bethesda, Md., where I had surgery to remove a kidney tumor. This genetic cancer I'm battling, called Von Hippel Lindau disease, also attacks the brain, spine, eyes and pancreas. It is slow, but relentless. As my mother slowly succumbed to the disease nearly 20 years ago, I picked up "The Tibetan Book of Living and Dying," by Sogyal Rinpoche. In the book, he argues for us not to fear death, but to use it as a mirror, to look into it, directly, and to ask ourselves how we shall live.
This October surgery was my 13th; as long as the docs keep cutting, though, I keep living. But it's pretty tough. Another tumor, another hospital visit, another extended period of lying still. My mortality, a drumbeat, compels me to ask Rinpoche's deep question, and to consider Secretan's questions, too. My answers will be different than yours. But shouldn't my answers—my aspirations—hold true for me, whether I find myself in my office, or anywhere else outside of it?
Why am I here? I honor and will be truly helpful to all living things.
How shall I act? With courage and love and joy.
What will be my legacy? This world will be better for my having been in it.
It'd been a while since I had the good fortune and time to ask myself these questions. Have you asked them lately?•
__________
Forsell is president of Keep Indianapolis Beautiful Inc. Send comments on this column to ibjedit@ibj.com.
Please enable JavaScript to view this content.