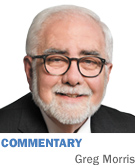 I've been knee deep in budget meetings, one after another, for what seems like an eternity now. It's been only about a month, but it seems much longer. I've talked to many business colleagues who have been doing the same. The process can be an emotional roller coaster in any year, but with the painfully slow economic recovery stalling substantive growth, many companies have had to make increasingly tough decisions.
Really, it's pretty simple math. When revenue isn't projected to increase fast enough, logically, the only remaining option is to take a laser-sharp look at where you can cut (again). The problem with that strategy is, if you've been faced with mainly cutting expenses, rather than projecting strong revenue growth the past several years, the choices get a lot more painful. Big compromises have to be made and you have to determine what you can live with.
I'm finally down to the last remaining issues, none of which will be easy to achieve a consensus on. In fact, consensus might not be achievable on all issues, but decisions will need to be made, anyway. Budgeting has always been challenging, but most executives I talk with agree the job seems to get tougher every year.
Yet we all do what needs to be done. We complete the process and we end up with a projected budget for the year. We perform our due diligence and make the tough decisions based on what we believe puts the company in the best position to succeed and produce the greatest return for shareholders. Decisions are based on projected market conditions for the upcoming year, and we stand at the ready to make adjustments quickly as the year progresses and actual conditions change.
Most of us do the same with our personal and family budgets at home. It's all about monthly projected income versus expenses. Maybe we don't have all the spreadsheets a business needs, but we try to work within a budget so there's at least enough money to pay all the bills and, we hope, have a little left over to devote to savings now and then. Again, it's pretty simple math. You didn't have to really comprehend or retain any advanced mathematics from your school days to understand that, when there isn't enough cash coming in, you have to figure out how to cut expenses.
I'll finish up my company budget soon, and as a result of an exhaustive process, I'll be a better manager for having gone through every line item. I will have refreshed my understanding of where every dollar is going and why it was spent. It feels good to have a fresh plan.
All right, you might know where I'm headed now. I'll give you a clue. I'm getting ready to jump on a plane bound for Alexandria, Va., for a board meeting with a national trade group I'm associated with. I'm going to be within a stone's throw of Washington, D.C., for three days. I've been talking about responsible budgeting.
In other words, who's looking out for the best interests of the citizens of our country? We haven't had a national budget for 3-1/2 years. Every minute of every day of the year, our government spends an obscene amount of money it doesn't have—and there's no end in sight. It's criminal. If you or I did that, we'd be on the run—or in jail.
Our leaders haven't been able to make any tough decisions or reach any compromises that are necessary to break the logjam. Honestly, it disgusts me. And there's a negative effect that quickly hits home. I can't get my business moving in the right direction until they get off their butts and actually do something that gives us some confidence in the future.
I was on a conference call last week with a colleague from the East Coast whom I'll be seeing at my upcoming meeting in Alexandria. I happen to know this individual has a different political party affiliation than I do. We were discussing this topic and as I was expressing my frustration and disgust, I stated that my feelings were 100 percent nonpartisan. I have equal disdain for all obstructionists. Interestingly, even though my friend comes from a different political persuasion, he said he couldn't agree more.
We agreed to consider making a side trip into the capital to see if we could talk some sense into these folks. I'll let you know how we do.•
__________
Morris is publisher of IBJ. His column appears every other week. To comment on this column, send e-mail to gmorris@ibj.com.
Please enable JavaScript to view this content.