Tradition, by definition, involves familiarity. And three of the top Indy on-stage holiday offerings embrace tradition in their own way.
Let's start with the least conventional. The seasonal selection at the Phoenix Theatre for the past seven years, "A Very Phoenix Xmas" always features a game group of actors, a mix of short plays/sketches and song and dance numbers, and an attitude that pokes fun at holiday traditions without ever seeming to want to damage them.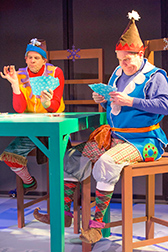 Rob Johansen and Charles Goad have some elfish downtime in "A Very Phoenix Xmas." (Photo/Zach Rosing)
This year's version, subtitled "Gettin' Figgy With It" (running through Dec. 23), relies far less than those of previous years on locally written pieces and more on the talents of guest artists The Fourth Wall. This trio of young musicians/dancers/actors provides early-in-the-show laughs playing high-schoolers trying to slip holiday music into a politically corrected Montessori school pageant. Later, they accompany themselves for a reasonably graceful ballet on rolling office chairs, perform a bit of ballet, and I'm guessing are also among the more dexterous in an Act I-closing sock monkey dance number. (Yes, it's that kind of show.)
Neither Chuck Goad nor Rob Johansen (both formerly of the Indiana Repertory Theatre's "A Christmas Carol," which I'll get to momentarily), are called upon to do too much comedic heavy lifting here, but both showcase well in the show's strongest sketch. In it, Goad plays a military commander fighting to repel the war on Christmas as personified by a Buddhist couple with an undecorated house. Johansen, as an enlightened Santa, makes a dramatic entrance to set things straight.
Fellow cast members Scot Greenwell and Ryan O'Shea also shine in a lump-in-the-throat performance of The Pogue's "Fairytale of New York." Achingly sad in a Tom Waits-ish way, the number is hindered, in part, by having to follow a seemingly unfinished sketch about a mysterious creature and a missing toe. It's also caught in the show's ongoing problem with coherent connectivity. An attempt at a framing device doesn't jibe with what we see in the scenes, and well-meaning slides (including plugs for shows at other theaters) slow things down.
Still, this holiday tradition continues to show flexibility, good will, and a serious effort to bring joy to the Phoenix world.
__________
Also mixing tradition with freshness, this year's edition of the Indianapolis Symphony Orchestra's annual "Yuletide Celebration" (through Dec. 23) scores, for the first time, a native Hoosier headliner.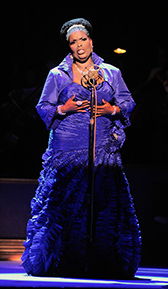 Opera star Angela Brown headlines this year's "Yuletide Celebration" with the Indianapolis Symphony Orchestra. (Photo courtesy Indianapolis Symphony Orchestra)
Opera star Angela Brown gets to don more than her share of gowns, goes for occasional laughs (although having her sing "My Simple Christmas Wish" aka "Rich, Famous and Powerful" is a misstep), and subtly brings down the house with a lovely "I'll Be Home for Christmas." Co-host Ben Crawford's credits might be overstated (Sorry, Angela, but he's hardly been the leading man in "so many Broadway shows"—he briefly took over the ogre part in "Shrek" and was a "Les Miz" understudy/replacement), but he's in good voice throughout.
There's brightness, too, in the supporting company. Dancer Anne Nicole Beck pops in a number kicking off a 1940s radio sequence, local talent Samuel McKanney gives spark to the opening of "All I Want for Christmas is You," and Mike Runyan combines musical chops and down-home playfulness in a harmonica segment. My favorite piece, though, came from within the ISO: violinist Michelle Kang's spotlight performance in a "Good King Wenceslas" variation (which, alas, she'll be handling only at select performances).
__________
There's less variation in the IRT's "A Christmas Carol" (through Dec. 24), but as long as the show stays this gorgeous, I won't ever complain. Some supporting cast members have changed, but the IRT's Scrooge and Marley, Ryan Artzberger and Robert Neal, both demonstrate the value of casting some of the city's leading actors in what could be just a holiday toss-off.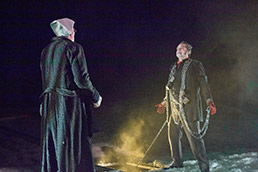 Marley (Robert Neal) warns Scrooge (Ryan Artzberger) of the fate that may befall him in the IRT's "A Christmas Carol." (Photo Zach Rosing)
Both demonstrate increased nuance since I saw them in the roles two years ago. There's now a sadness to Marley's ghost that I never noted before. And Artzberger's transformation seems more honestly handled. His joyful conversion seems more satisfyingly earned than that of most Scrooges I've spent time with.
Thanks to Artzberger and company, I left the theater in nearly as giddy a mood as Ebenezer—and was thrilled to hear chatter around me from people saying the IRT's "A Christmas Carol" was one of the best things they've seen on stage.
Here's hoping they come back for more beyond December.•
__________
This column appears weekly. Send information on upcoming arts and entertainment events to lharry@ibj.com.
Please enable JavaScript to view this content.