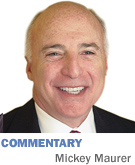 Twenty-five years ago my pre-teen daughter Jill and I had a vigorous disagreement. She had declined to accept advice regarding her exercising independence beyond what I deemed reasonable boundaries. Finally, in exasperation, she blurted out, "Dad, your life is almost over. Mine is just beginning." It was funny then. It's not so funny now.
A major birthday is looming next week, bringing me closer to the truth of Jill's observation, and trusted advisers are piling on. My cardiologist said if it tastes good, spit it out. A funeral director who is a family friend commented, Mickey, "You're a businessman. Try thinking outside the box—have you considered cremation?"
They say the secret of staying young is to live honestly, eat slowly and lie about your age. I won't lie—I'll let you guess. I will say I am reading the obituaries every day to make sure I'm not there.
Last week I attended a dinner of high school buddies, all with the same age challenges. We used to talk about girls and sports—and girls. This time the topics were medicines and maladies—and girls. This is the time of life when you realize you are, in fact, mortal. I already have one battle with cancer under my belt. Literally.
In my book, "Ten Essential Principles of Entrepreneurship You Never Learned in School," I discuss knowing when to fold 'em—when to sell a business or to exit an industry. The premise is that in school we learn to analyze buying opportunities, but we are never educated on when to recognize a proper time to sell. I illustrate my fold 'em principle with war stories describing the critical decisions of entrepreneurs Steve Hilbert, Bob Laikin and others. The chapter does not deal with my situation—where age and health are the sole determining factors.
So when is it time to retire? A casual observer would conclude that corporate executives retire as soon as they accumulate bundles of cash and stock, whereas entrepreneurs are carried out of their offices feet first with a death grip on their cell phones. Witness Randy Tobias and Sidney Taurel at Eli Lilly, Tim Solso at Cummins and Ben Lytle at WellPoint, all big corporate execs who retired well before my ripe old age. Maybe they are not having as much fun as entrepreneurs Jeff Smulyan, Sidney Eskenazi and Al Kite, all of whom report to work on a regular basis.
I tried retirement once and it was a big mistake. About the time I had that conversation with Jill, I decided I had created sufficient wealth to cash in on the American Dream. In a period of six months, I retired from my law practice and sold all my business interests. The proceeds from the sale of those businesses were converted into tax-free bonds rated AA or better.
What a fiasco! After a few months of retirement, I grew dissatisfied. I got bored working out at the health spa every morning. The calls and the mail dried up. The office was a lonely place. I missed the psychological satisfaction of seeing opportunities, making deals, creating value—of being in the arena.
Of course, I was busy with community service work. Although highly satisfying, volunteering did not replace the excitement of a deal. I realized that my original vision of the American Dream was a nightmare. I learned that there is more to business than the money earned. It is a grand game and money is simply a means of keeping score. The essence of business is the joy of the game.
Now I am enjoying an active and rewarding career in a variety of businesses and causes. On the eve of this significant birthday I know if I retired I would miss the game, and so when I ask myself, "Is it time to retire?," the answer is never.•
__________
Maurer is a shareholder in IBJ Corp., which owns Indianapolis Business Journal. His column appears every other week. To comment on this column, send e-mail to mmaurer@ibj.com.
 
Please enable JavaScript to view this content.