It's hard to imagine in today's Indiana that a candidate who lured a major factory to the state would have that used against him in an election. But that's just what happened after Lt. Gov. John Mutz lured the Subaru-Isuzu plant to Lafayette in 1987 and then ran for governor.
Subaru employs 3,500 at its Lafayette plant and is considering an expansion. (IBJ file photo)
His opponent, Secretary of State Evan Bayh, ran TV ads criticizing the decision to provide $86 million in incentives to Japanese companies and raising doubts about how many of the jobs ultimately would go to Hoosiers.
That deal, struck 25 years ago, brought the first Japanese auto plant to the state. Two others followed—Toyota opened in Princeton in 1996 and Honda in Greensburg in 2008. The three plants now collectively employ 10,000 and support thousands of additional jobs at suppliers across the state—providing an economic boost that has helped offset thousands of Indiana job cuts by Detroit's Big Three automakers.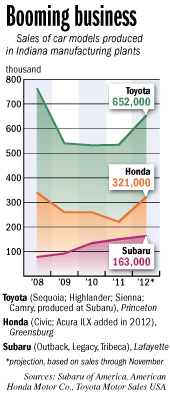 "I'd hate to think what the Indiana economy would look like without the Japanese investments," said Mutz, who blames the ads for his defeat. "I would do it all over again, even if it costs me an election."
Employment at the three plants continues on the upswing even amid signs the economic recovery has lost momentum. Subaru, which has owned the Lafayette plant outright since Isuzu dissolved its partnership in 2003, reiterated this month that it's considering expanding the 3,500-worker factory, its only U.S. assembly site.
Toyota Motor Manufacturing Indiana early this year announced it would shift production of the Highlander SUV to Princeton, adding about 400 jobs at the 4,500-worker plant.
And Honda Manufacturing of Indiana still has about 300 people to hire as part of a production boost at its 2,000-worker Greensburg plant.
A mixed reception
But back in 1987, when state and local officials unveiled plans for the Subaru-Isuzu plant, not everyone was ready to celebrate.
Japanese manufacturers had been in the United States only five years. Honda was the pioneer, opening a factory in 1982 in Marysville, Ohio.
The notion of corporations reaching from their Japanese headquarters into the United States was too new to assess the long-term effects.
Questions abounded. What would these companies expect of their workers? Would they even hire Americans? Should governments be providing incentives to foreign companies?

Easterday
Tom Easterday, who oversees Subaru of Indiana Automotive in Lafayette, a subsidiary of Tokyo-based Fuji Heavy Industries Ltd., chalked up those concerns to "a lot of misunderstanding."
Easterday, who joined the plant as legal counsel in 1989, said Lafayette's Democratic-led city government and heavily Republican county government both rallied behind the factory.
But he said Bayh's advertisements in the governor's race fanned anxieties.
"Some commercials in the political arena … indicated that all the top jobs at Subaru-Isuzu would be in Japan," Easterday said. "I have to chuckle at that now since I'm the executive vice president."
The political climate was far different 20 years later when Indiana vied with other Midwestern locales for the Honda plant. Residents of Greensburg sent hundreds of pictures and letters to the company hoping to sway the automaker to pick their community.
"By the time Honda came to Greensburg, I think there was a pretty good understanding of what it was like working for a Japanese company," said Fred Payne, manager of corporate affairs at HMIN, which makes the Honda Civic and Acura ILX.
In between Subaru's and Honda's launches, Toyota Motor Manufacturing Indiana opened in Princeton.
All three automakers say they've had a big economic impact on the state and the Midwest.
Employment at the Subaru plant has surged to 3,500 since SIA reached a deal in 2007 to use excess capacity to make the Camry for Toyota. The plant also makes the Subaru Legacy, Outback and Tribeca at the Lafayette plant.
Honda, in four years, has grown its Greensburg employment from 1,000 to 2,000, and the automaker plans to add 300 more jobs when it increases production 25 percent and starts making the Civic Hybrid in 2013.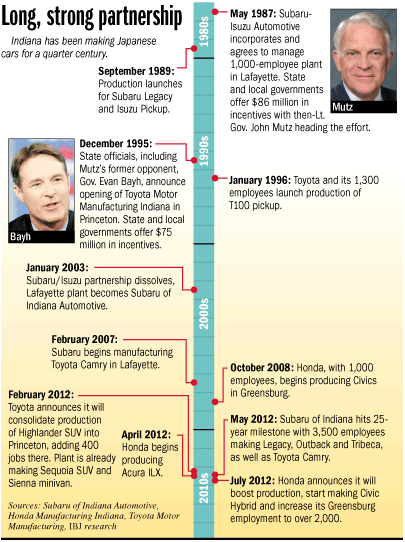 And while Detroit's Big Three automakers have hemorrhaged tens of thousands of jobs, mostly unionized assembly workers, Subaru, Honda and Toyota, which aren't unionized, have increased U.S. employment.
Starting production workers at the U.S. and Japanese automakers typically make $14 to $16 an hour. Senior workers at the American companies earn close to $30 an hour, while the most experienced workers at the Japanese companies make about $25.
Even Bayh, who now is in the private sector after two terms as governor and two terms in the U.S. Senate, told IBJ he's happy to see the growth of Japanese manufacturers in Indiana.
But he said he stands by his criticism of the incentive package that lured Subaru-Isuzu to the state.
"I think it's great the plant is there," said Bayh, a partner at the law firm McGuireWoods in Washington, D.C. "But I think we could have paid less for it."
Chasing investment
Mutz said he began looking for foreign investments after he took office in 1981, at the tail end of a deep manufacturing recession. As lieutenant governor under Gov. Bob Orr, Mutz was in charge of the state's economic development efforts.
"The question was, what could I do to give people hope, and something to work for, as far as the future is concerned?" he said.
"Then the question was, where were we going to get new investments? In the United States, companies were just plain not expanding, not investing. So we decided to go where capital existed and where potential existed. And the most viable place was Japan."
About 40 foreign companies already had small operations throughout Indiana, he said, but the Orr administration wanted someone big.
"Along came the Subaru deal, which we went after quite aggressively," Mutz said.
To lure the two Japanese automakers, the state and the companies negotiated $86 million in tax-funded incentives for the $550 million factory. In today's inflation-adjusted dollars, that equates to $175 million in incentives for a $1.1 billion plant.
Subaru was the first of dozens of Japanese companies to start up operations in Indiana. Today, the state has about 160 direct investments from firms there, said Mutz, now a board member with the Indiana Economic Development Corp.
While Bayh welcomes those investments, he said that doesn't change the reality that the state overspent to attract Subaru-Isuzu, considering the number of jobs created and overall economic impact.
"At the time—and this was 25 years ago—on a per-job basis, we paid significantly more than other states for other facilities," he said.
He said the state spent more reasonably for Toyota, which committed to Indiana while he was governor.
The automaker received a $75 million incentive package ($110 million in today's dollars) for a $700 million plant ($1 billion today) that initially created 1,300 jobs.
Bayh believes his attack on the Subaru-Isuzu incentives helped win him the election, and Mutz agrees.
But Brian Vargus, a pollster and retired political science professor from IUPUI, thinks Bayh would have prevailed, anyway.
He said voters saw Mutz as a talented but institutional politician with a dull campaign. On the other hand, they saw Bayh, then just 32, as young and charismatic—characteristics that allowed him to rally support in a campaign with few major issues or controversies.
Plowing ahead
Easterday said he and the rest of the management team ignored the political fallout and focused on bringing Japanese corporate culture to Lafayette.
That meant, for example, instituting lean manufacturing practices—an approach that originated in Japan but now is common among U.S. companies—and extensive training.
"Back then [at U.S. factories], you would probably experience a couple of days in the classroom, then basically everything else was on-the-job training," Easterday said. "Here, it was two weeks in the classroom before you even got on-the-job training."
A team from Tokyo had to teach management and production employees about the Kaizen philosophy on continuous improvement, which encourages employees at all levels to innovate and improve efficiency.
Managers also differed from their counterparts at American companies in having open-door policies. In addition, everyone—including executives—had to wear uniforms.
"In the Lafayette community, even some meetings in Indianapolis, I will still wear the uniform because it symbolizes what we do," Easterday said
Other differences are more subtle. New Honda hires, for instance, must undergo physicals to assess strengths and weaknesses, then spend up to two hours a day on conditioning to reduce the risk of injury, said Andy Snider, the plant's business division manager.
"We dig deep into the company's principles," Snider said. "We stop and explain to them Day One that this company you're coming to, this is a Japanese company. It means we're going to operate in certain ways."•
Please enable JavaScript to view this content.