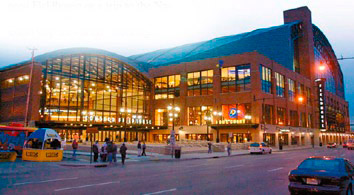 Pacers Sports & Entertainment will get another $10 million from the city under a one-year contract extension approved Monday afternoon by the Capital Improvement Board of Marion County.
The CIB's nine-member board voted 8-1 Monday afternoon to extend the team's management contract of Bankers Life Fieldhouse rather than try to negotiate a new, long-term contract. The deal will keep the Pacers in the fieldhouse at least until the middle of 2014.
IBJ first reported the possibility of the contract earlier Monday.
The extension gives CIB officials more time to consider other budget strategies, including possible increases in local car-rental and ticket taxes.
"Sometimes we just get in too big of a hurry," CIB board member Milt Thompson said Monday afternoon. "An extension in the short term is the most prudent move we can make."
Board member Doug Brown was the only member to vote against the proposal.
The CIB signed a three-year deal in July 2010 to keep the Pacers in Indianapolis. That agreement called for paying the Pacers $33.5 million over three years to compensate the franchise for losses it suffered while operating Bankers Life Fieldhouse.
Under the one-year agreement, the Pacers will get two $5-million payments, one this month and one in April.
Please enable JavaScript to view this content.