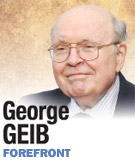 Mitch Daniels had 48 former governors as role models when he took his oath of office. Now we can decide how he stands among them.
Most lists of great Indiana governors are headed by Oliver Morton or Paul McNutt, strong executives who governed in the crisis times of the Civil War and the Great Depression. Daniels faced no such national crisis, but he did confront high expectations in a partisan landscape.
It is hardly surprising that many evaluations of Daniels' governorship reflect the evaluator's party preferences. Republicans often speak of school reform or economic development. Democrats seldom fail to mention public employee unions or IBM's bungling of public welfare.
Viewed through the lens of our state's history, other topics command more interest.
Indiana has always been a battleground between modernizers who want to encourage development and localists skeptical of the costs. Our 1851 Constitution, written in the aftermath of the canal fiasco, was designed to discourage overly ambitious planners. Caretaker governors such as James Mount, Harry Leslie and Frank O'Bannon had many supporters.
But Daniels aligned himself strongly on the modernization side. The signature act of his first term was to replace our many local compromises with uniform daylight saving time.
Other problems consistently present themselves to an Indiana governor. At least since Noah Noble signed the 1836 Internal Improvements Act, governors have sought ways to improve infrastructure. McNutt's public utilities measures and James Goodrich's state highway proposals come quickly to mind.
Daniels placed himself centrally in this camp when he sold control of the Indiana Toll Road to a private corporation and used the $3.8 billion to launch a host of projects. His motorcycle ride along the new interstate from Evansville to Crane's Naval Surface Warfare Center was the final defining act of his tenure.
Many argue that Indiana is the northernmost Southern state, especially where social issues are concerned. Other governors, such as revivalist Ira Chase and prohibitionist Ed Jackson, defined themselves this way.
Daniels tried not to do so. While he signed predictable conservative legislation, he will be most remembered for his call for a truce as he contemplated a run for the presidency. It's a reminder that national issues were often on his mind.
Few gubernatorial problems have been more intractable than the structure of the state's administration. Almost all governors have attempted some kind of reorganization. Matthew Welch and Otis Bowen come naturally to mind.
Daniels focused upon this, building his extensive responses upon the budgeting practices he had learned in two presidential cabinets in Washington and the planning and personnel policies he had experienced while at a Fortune 500 company. The resulting cost savings became a centerpiece of his 2008 re-election bid.
His only races for public office, the 2004 and 2008 campaigns—with his signature RV, his pork tenderloin sandwiches and his well-organized voter contact programs—won him comfortable victories. They also exemplified a new style of politics in which candidate, rather then party structure, was central to vote mobilization. Extremely adept at winning his own races, he was often unable to transfer his support to others.
The bottom line is that Mitch Daniels was a strong political and economic leader in a constitutionally weak office. He'll rank high on the administrative scale, but his straight-talking style will leave few colorful stories told about him.
One of Indiana's best governors, he may be one of its least remembered.•
• Geib is a professor of history at Butler University. Send comments on this column to ibjedit@ibj.com.
Please enable JavaScript to view this content.