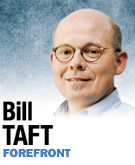 Just north of the revived City Market, along the Alabama Street stretch of the Cultural Trail, stands a vacant landmark that has resisted redevelopment for almost a decade—the old City Hall. The city has spent a decade undertaking unfruitful redevelopment studies for this building, while others have simultaneously promoted construction of a $200 million public safety complex outside downtown due to overcrowding in the City-County Building.
The city should seize the moment to reactivate this important landmark as the ceremonial center of local government, while saving taxpayers scores of millions on constructing a giant new complex merely to efficiently process criminals.
City Hall was commissioned in 1908, reflecting the vitality of a city that had experienced 50-percent population growth in the previous decade. Local architects Rubush and Hunter designed a neoclassical monument constructed from the finest materials and centered on a soaring four-story atrium crowned by a giant stained-glass dome. The cornerstone still proclaims civic pride through a quote of the Apostle Paul: "I am a citizen of no mean city."
For 60 years, City Hall served as the civic heart of our city, until city and county governments moved into the uninspiring City-County Building in 1962. Unfortunately, this new building reflected more of a Cold War desire for bigness and efficiency than any sense of civic grandeur.
The Indiana State Museum then purchased the old building with a clause stating it would revert to city ownership if the museum ever closed. The state closed up its exterior windows, turned offices into exhibits on wildlife and pioneer history, then moved to its new location in 2002.
The city has taken responsibility for City Hall's security and basic maintenance while exploring a variety of ideas for reuse. Multiple developers have attempted to create financially feasible redevelopment plans. The impressive center atrium makes it unfeasible for commercial redevelopment since there isn't enough usable interior space to generate commercial rents that justify for-profit redevelopment.
Six years ago, I served on a reuse committee that concluded the best use for the building was to return it to public use, either for city functions or for civil courts.
Meanwhile, the local criminal justice system began promoting the need for a $100 million to $200 million criminal justice complex outside downtown to replace the jail, its annexes and the various courtrooms in the City-County Building.
By removing all court functions from downtown, the complex likely would accelerate the trend of law firms departing downtown. This would weaken the economic base of eastern downtown, which gleans little benefit from the growing convention/restaurant activity on its west side.
An alternative would solve two public facility challenges and save local taxpayers at least $100 million. Let's move all public functions such as the Mayor's Office, the City-County Council chamber and hearing rooms, and various other city functions that interface with the general public back into City Hall. This would eliminate the wasted carrying costs of a vacant building while returning city government to a grand and inspirational space.
The space vacated by city government could be converted to additional courtroom space, removing the general public from the City-County Building and allowing smoother courts use, while the jails continue to occupy buildings we have paid for.
If we care about saving one of our most historic landmarks, bringing vitality to the Cultural Trail, restoring city government to a more auspicious setting, saving millions in public funds, and reinforcing the economy of downtown, we should all ask Mayor Ballard to move back to City Hall.•
• Taft is Indianapolis executive director of Local Initiatives Support Corp., a not-for-profit that invests in neighborhood redevelopment projects. Send comments on this column to ibjedit@ibj.com.
Please enable JavaScript to view this content.