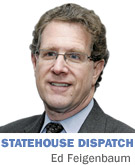 When lawmakers reconvene Jan. 7 for the 2013 legislative session, they will do so under a unique structure: a new Republican governor and Republican super-majorities in both chambers of the General Assembly. The last time Hoosiers saw super-majorities in both chambers was after the 1972 Nixon landslide, when Otis Bowen, a Republican, was elected to his first term as governor.
While it might seem that legislative Republicans can use their newfound status to convene and pass laws without a single Democrat present, don't expect them to run roughshod over their minority brethren. Not only did they achieve the bulk of their major goals in the last two sessions (when Senate Republicans enjoyed a super-majority), but there might not even be total agreement on key agenda items—much less the details—between GOP legislative leaders and Gov.-elect Mike Pence, also a Republican.
Senate President Pro Tem David Long, R-Fort Wayne, may have had more difficulty herding disparate wings of his own party in 2012 than worrying about Democratic dissent, but he finessed the special responsibility a super-majority exacts. On occasion, however, he bowed to the will of his members, relying upon House Speaker Brian Bosma, R-Indianapolis, to kill some of the more extreme measures that might have proved electorally problematic for House members.
Once again, leaders Long and Bosma are playing up the need for—and expectation of—bipartisanship, and they understand that controversial measures must enjoy a modicum of Democratic participation (if not support) to achieve legitimacy in the eyes of suspicious Hoosiers.
The leaders might also find help from Democrats in picking off not only low-hanging legislative fruit (such as implementing preschool education programs, favored by both parties and the incoming governor), but on some bigger-picture institutional issues.
While candidate Pence downplayed interest in immediately advancing a social-issues agenda that might prove anathema to Democrats, he (and his Democratic opponent) did advocate tax cuts, and Republican legislative leaders were outwardly skeptical. They cite the need to assess the impact of Indiana's newly implemented corporate income tax cuts, the initial years of the inheritance tax phaseout, the first budget surplus to be reduced by transfers to pension funds and automatic taxpayer refunds, and the troublesome continuing and projected decline in gambling tax revenue—even before addressing general economic conditions.
The two branches might butt heads on tax cuts, and if so, Democrats will be out in full force to not only protect legislative supremacy, but also to serve up a legislative loss for the new GOP chief executive.
So watch for the institutional tug-of-war at the session's onset, and while the Pence campaign roadmap offers insight into issues he will be advocating in 2013, lawmakers will await the gubernatorial State of the State Address to learn what specifics he will push, and with what priorities.
Against this backdrop, lawmakers must also craft a two-year budget, and you will hear considerable talk about the background of uncertainty they will face in doing so. Not only will both parties' top House budget drafters be entirely new to their roles, but the revenue uncertainty outlined above will be further complicated by concerns over just how the Affordable Care Act will affect state Medicaid expenditures over the biennium.
With financing changes dating back a decade now placing the onus for education funding on the state, any changes in education financing (including finding ongoing funding for new kindergarten programs implemented last year) become critical. Expect lots of tweaking in education policy and programs.
So while fiscal concerns and education issues are likely to be topics overarching the 2013 session, other matters will play a key role, including mass transit, protection of Indiana's gambling dollars, criminal code revisions, and assorted child welfare and worker and public safety items.•
Please enable JavaScript to view this content.