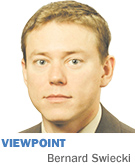 From the mid 1980s through perhaps 2008, automotive investment in the Great Lakes region was driven by General Motors, Ford and Chrysler losing market share to competitors from Japan, Korea and Europe.
However, despite new plants going up all over the region, overall production remained fairly flat. What appeared to be growth was, for the most part, replacement.
Fast forward to 2012. The country has emerged from recession. Vehicle sales and production have actually recovered faster than the overall economy.
Furthermore, the chief dynamic driving automotive investment in the region has vaporized: Detroit Three market share has stabilized at about 45 percent of the U.S. market and is expected to stay there. New assembly plants, as well as other necessary manufacturing investments, will therefore need to come from overall market recovery.
There is reason to be optimistic. The international automakers have not opened major new domestic facilities since the start of the recession and the Detroit Three cut capacity drastically. An analysis by the Center for Automotive Research, in fact, shows that Ford and General Motors each will face capacity shortages of select vehicle types in perhaps three years.
In a strongly recovering market, there is reason to believe that both the domestic and international players will need to build plants to meet the rising demand.
Not only is demand rising, but the strength of the yen has made manufacturing in Japan so expensive that Japanese automakers are seeking capacity in North America.
All this should be music to the ears of economic developers, but there is a fly in the ointment: Mexico has garnered virtually all the new assembly-plant announcements made over the last few years.
While international automakers' Mexico announcements have been largely those for all-new plants, the Detroit Three have stuck to making incremental investments in their Mexican facilities. Both the U.S. government and the United Auto Workers, after all, are shareholders of General Motors and Chrysler.
Meanwhile, Ford has announced $1.3 billion in upcoming investment at its Hermosillo factory alone, providing a powerful example of this growing dynamic.
Why Mexico? In addition to the lower wages (about $7.40 per hour for automotive parts and assembly workers), the country has free-trade agreements with dozens of countries, making it a perfect export hub. These trade agreements also make it cheaper to import parts.
Although the United States has the North American Free Trade Agreement, as well as trade agreements with South Korea and Columbia, it simply can't match this trade environment.
Investment in the Great Lakes region is certain to continue, though likely more focused on existing sites. It's the brand-new greenfield investments that will be the real carrot over which regions compete.
Over the last two decades, the Great Lakes region has come to regard the U.S. South as its chief competitor for international automaker investment. The times have changed, and Mexico's rise should serve as a wake-up call to both regions. It's true that the Great Lakes region and the South will continue to compete with each other—just as, for example, Indiana and Ohio may compete for investment despite being in the same region.
The key now is not to lose sight of the fact that the scope of the competition has shifted. This development makes a strong case for regional manufacturing and economic development strategies—as well as, just maybe, repainting our region's boundaries a little farther South.•
__________
Swiecki is assistant director of the Automotive Communities Partnership at the Center for Automotive Research in Ann Arbor, Mich. Send comments on this column to ibjedit@ibj.com.
Please enable JavaScript to view this content.