Indianapolis recently agreed to pay $10 million to help Pacers Sports & Entertainment run Bankers Life Fieldhouse for another year, but Mayor Greg Ballard wants to find out in the meantime whether the city can get a better deal on the venue's management.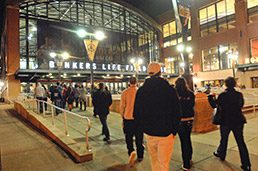 Indianapolis recently chipped in $10 million to help the Pacers run the venue for another year. (IBJ photo/Perry Reichanadter)
"We're going to look at taking it over to see if it makes more sense for us," Ballard said. Potential managers include the Capital Improvement Board—which owns the arena, Lucas Oil Stadium and Indiana Convention Center and operates the latter two—or national companies that specialize in venue management.
The Indiana Pacers' owner has been running the 18,165-seat basketball arena since it opened in 1999 and keeps all the revenue from its myriad events. In 2010, CIB agreed to provide PS&E $3.5 million for building improvements, plus $10 million a year for three years to offset the cost of operations.
With a recent one-year extension to that deal, the Pacers will have received $43.5 million by the 2013-2014 basketball season. The money is a forgivable loan, which PS&E won't have to repay as long as the NBA team stays in Indianapolis through 2019.
Ballard corrects anyone who thinks the money is a subsidy for professional basketball.
"We're paying to run the building," he said.
PS&E and CIB never have revealed the books on the fieldhouse to the public. Sports business experts are divided on whether the building is a boon or a burden.
Andrew Zimbalist, economics professor and sports specialist at Smith College in Northampton, Mass., called the team owner's situation—keeping all revenue, paying no long-term expenses, and getting another $10 million—"spectacularly generous."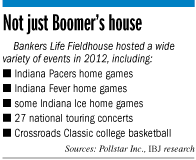 "And the city should be able to do better," he said.
But Mark Rosentraub, a sports management professor at the University of Michigan, can see how the arena would struggle. He noted that Indianapolis is the smallest market to host two major professional sports team—the Pacers and the Indianapolis Colts. For non-sports events, Bankers Life competes against two similar arenas in Columbus, Ohio, plus Louisville's KFC Yum Center, which opened in October 2010.
"There are more facilities and fewer people in the central Midwest than there are in the city of New York market," Rosentraub said. "You ought to expect these facilities are not doing as well as you would like."
PS&E President Jim Morris wouldn't say whether he would be open to giving up management, but he defended the job the Pacers have done with the venue.
"Our company has done a superb job of operating Bankers Life Fieldhouse," he said.
He said it's being managed as efficiently as possible following cuts in recent years that left just 36 employees running the building.
Asked whether the venue itself is the reason the franchise loses money year after year, he said, "Pacers Sports & Entertainment is not a profitable operation. We operate it for the well-being of the community. … To think we could do this with a building staff of 36 people is unbelievable," he added.

Morris
The city's money goes toward expenses like utilities, insurance, security and maintenance, Morris said. It also covers payroll, though not for people who work directly with basketball players and their travel.
"The people that work here work incredibly hard," Morris added. "We have dozens of people that work 60, 70 hours a week."
The exact cost of running the venue is a mystery.
"I suppose something in the neighborhood of $15 million is what it costs us to operate the core expenses of this building," Morris said.
That's the amount the Pacers requested from CIB in 2010. But when IBJ initially asked Morris about that figure this month, he said he didn't know its origin. "I have no idea what that number means."
Capital Improvement Board officials believe the figure was at least $12 million in 2010, Chairwoman Ann Lathrop said through CIB spokesman Robert Vane. She was out of town and unavailable for an interview before IBJ deadline.
This isn't the first time Indianapolis has talked about changing up downtown venue management. In late 2009, the city put out a "request for information" on management of Lucas Oil Stadium, the Indiana Convention Center and Bankers Life and received 12 responses.
One of the leading respondents was a four-way partnership of the Pacers, Indianapolis Convention and Visitors Association, Philadelphia-based Global Spectrum and Los Angeles-based AEG.
Global Spectrum and AEG are two of the three biggest names in entertainment venue management. The industry leader, Philadelphia-based SMG, was another front-runner.
None of the venue-management powerhouses quantified the potential for added revenue or reduced expenses.
The Pacers' consortium suggested it could pursue new events, such as international championships in tennis and figure skating or made-for-television specials.
A CIB budget crunch spurred the request, but in the end Ballard decided there were too many other projects in the works to go ahead with privatization. At the time, the city was planning Super Bowl XLVI and the convention center expansion was still under construction. CIB also was in negotiations with the Pacers.
Frank Russo, senior vice president for business development at Global Spectrum, said his company would definitely be interested in managing Bankers Life, but he would defer to PS&E, with which he has a long-standing relationship.
Russo can't imagine the Pacers handing the keys to CIB or another venue manager.
"I would think the Pacers would step up, and they would even compete for it," he said. "They would be in a pretty solid competitive position."
Most NBA and NHL teams that also manage their home venues benefit from the arrangement because it defrays the overhead expense of professional sports, Russo said. (Global Spectrum runs Wells Fargo Center in Philadelphia, and the parent company, Comcast Spectacor, owns the stadium and Philadelphia Flyers hockey team.)
"It's very natural for them to offset that cost by managing the building," he said. "Really, they have to hire a minimum of additional full-time employees to run the physical plant day-to-day."
The Indiana Pacers have piled up tens of millions in losses in recent years, but the bottom line is set to improve under the NBA's new revenue-sharing agreement.
The Pacers lost $32.6 million over the last two full seasons and $10.5 million in the strike-shortened 2011-2012 season, according to Forbes magazine estimates.
The NBA's revenue-sharing pool has grown from $119 million in 2011-2012 to $200 million this year, league sources said.
The pool will be fully funded next season and, according to league projections, the Pacers will get $20.5 million, the second-largest amount. But that money won't be distributed until February 2015.
Rosentraub thinks it would be a mistake to separate the business of Pacers basketball from Bankers Life. The fieldhouse, which is also home to the WNBA champion Indiana Fever, hosted 27 national touring shows, plus high school sports, college basketball and other special events this year.
"Be careful what you wish for," Rosentraub said. "That might weaken the Pacers to the point their viability is less stable."•
Please enable JavaScript to view this content.