Four days before Black Friday, the most important date on the retail calendar, The Finish Line Inc. announced the launch of a new version of FinishLine.com—the centerpiece of a broader effort to "reinvent the shopping experience."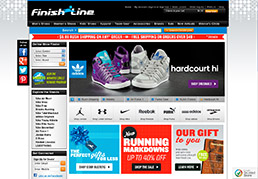 Finish Line switched back to this more traditional, legacy version of FinishLine.com after a redesign failed to resonate with shoppers. The chain is expected to relaunch the new version after working out some kinks. (Finishline.com screen shot)
The launch hit turbulence. As customer complaints about lost orders and website problems piled up on Facebook, and online sales fell short of expectations, the company switched back to the legacy version of its website on Dec. 6.
Finish Line waited to share the news with investors until after the market closed on Dec. 14, in a short notice with the Securities and Exchange Commission that acknowledged the switch and said "the company believes this change was in the best interests of its customers."
The disclosure—which came three weeks before the company is scheduled to report third-quarter results Jan. 4—led Wall Street analysts to pounce. One prominent analyst downgraded the stock to hold from buy, and three others kept their ratings but lowered price targets.
The website produces about 10 percent of Finish Line's sales, a big chunk of which comes during the period from Thanksgiving through Cyber Monday. But the launch problems also raise larger concerns about the footwear and athletic apparel retailer's aggressive $85 million investment in store and behind-the-scenes technology.
Finish Line CEO Glenn Lyon has championed a technology renaissance.
Finish Line CEO Glenn Lyon declined an interview request through a company spokeswoman, who cited a quiet period before the company's earnings report.
Analysts covering the company aren't waiting for earnings to express their concerns.
"We believe this development strikes an already sensitive nerve and validates investor concerns regarding management's aggressive omni-channel strategy," Goldman Sachs analyst Taposh Bari wrote in a report Dec. 17. "This event, in concert with slowing running sales, leads us to reduce our estimates and price targets."
Goldman's report says the source of the issues with the "radically different interface" is unclear, but poor user experience and glitches with a loyalty program (Winners Circle) might have cost the chain $3.5 million in sales and a hit to its reputation. The investment bank lowered its price target for Finish Line, which it said took on too many initiatives at once, to $19, from $22.
In trading at IBJ's print deadline, the shares were fetching about $18, near a 52-week low and about 30 percent below the 52-week high above $26.
"[Finish Line] appears to have violated a golden rule in retail by making a major change ahead of a key selling season," the Goldman Sachs report notes.
Launching the site one week before Black Friday was a mistake, agrees Deutsche Bank cloud computing and software analyst Tom Ernst Jr., who covers Burlington, Mass.-based Demandware Inc., which helped build the new FinishLine.com along with the digital agency Big Spaceship, based in Brooklyn, N.Y.
Ernst said in a client note that the companies should've launched the site at least a month before peak holiday shopping to work out kinks. He expects Finish Line will relaunch the site on the Demandware platform early in 2013.
In its own regulatory filing, Demandware noted that the site included a new interface, product catalog, search capabilities and checkout. The streamlined look included a large Google-like search bar.
"Upon that launch, Finish Line experienced less than expected satisfaction with customer interactions on the newly designed site and concluded that it would suspend operation of the site … to provide further opportunity to improve customer satisfaction," the company said.
Finish Line has been struggling with the technology side of a new retailing strategy that merges stores with online.
The chain is investing $85 million this year on its transformation, much of it on in-store technology, including hand-held devices for store associates to ring up customer sales. The new vision is to become the Apple Store of athletic retailing.
The new website costs fall within the big investment under an $8 million category that also includes customer-relationship-management technology.
There are signs the technology struggles aren't limited to FinishLine.com. Glitches have plagued a prototype store at Castleton Square Mall that features a series of customer-accessible tablets and a 42-inch touch-screen table at the entrance, as IBJ reported in July.
Screens were blank and showing error messages when a reporter visited at the time. On the afternoon of Black Friday, the main tablet screen had frozen and was not working. A store employee blamed children playing with it too much. During a follow-up visit in mid-December, the tablet was up and running, allowing customers to peruse hundreds of products, pulling up specifications and reviews, and building a wish list.
In July, CEO Glenn Lyon told IBJ the technology was never intended to be plug-and-play.
"This is not a glitch," Lyon said at the time. "It's a process. Our expectations are our expectations."
That was a different approach from the one he took in a call with analysts a few weeks earlier. According to a transcript of the June 29 call, Lyon raved about double-digit gains in sales for all product categories in the new high-tech store. He didn't mention glitches.
"Since the store reopened last month, consumers have voted with their wallets and their feedback is that they love what we have done to enhance the store experience," he said.
Paul Trussell, a Deutsche Bank analyst covering Finish Line, remains bullish on the retailer despite the technological hiccups.
He pointed to the positive impact on sales and speed of delivery from the chain's big investments this year, lower investments next year, and a solid balance sheet with about $5 in cash per share, equaling about 28 percent of the company's market value. Analysts are also upbeat about a plan for Finish Line to open shops in 450 Macy's department stores.
In a note to investors on Dec. 17, Trussell lowered his price target on Finish Line from $26 to $25, but kept a buy rating. The headline on his note: "Too much, too fast in '12? Smoother in '13?"
Susquehanna Financial Group analyst Christopher Svezia lowered his price target on Finish Line to $20 from $22, keeping a neutral rating on the shares.
But the most dramatic downgrade came from Canaccord Genuity analyst Camilo Lyon, who dropped his price target from $28 to $20 and downgraded Finish Line to a hold rating from buy.
In a note to investors, Lyon blamed discounting on running shoes and "execution issues" with e-commerce.
"While the [website] issue is transitory and should be fixed, we are becoming skeptical whether the other technology investments FINL has made will have the desired comp gain results," Lyon wrote.
"We also believe the launch of the website the week of Black Friday shows poor judgment. Since the company has placed such a high emphasis on its omni-channel strategy, we would have expected a more well-thought-out plan."•
Please enable JavaScript to view this content.