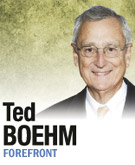 Gov.-elect Mike Pence proposes a 10-percent reduction in Indiana's income tax. Some question whether we can afford it. But if we can, should we?
Over the years, we have had a number of tax refunds or cuts when the state treasury looks a little flush. They are then usually followed by the scramble to keep the state together when the next economic downturn hits. In the meantime, some long-deferred maintenance, capital projects and important initiatives continue to be pushed into the indefinite future.
Now that the state has some financial capability, shouldn't we attend to some neglected items? There has long been widespread agreement that our state is deficient in early education, but we have not given our kids the start they deserve and the work force of the future demands.
If, as many argue, completion of Interstate 69 and the Commerce Connector is critical to the state's future, we should fund them now, while we have the cash. And if we need mass transit for central Indiana, shouldn't the affected areas be able to choose to invest in that rather than have a tax cut?
Major capital projects are typically built with bonds backed by long-term leases. The state pays for the project's use over many years, and each generation of taxpayers pays its share. Because interest on the bonds is a major piece of the cost of the project, it makes eminent sense to build major projects in times of low interest rates. And if the economy is slow, bid prices of contractors are lower than in boom times.
Finally, most capital projects require extended periods for design and planning before construction, so the bulk of the cost of the project often does not begin to be incurred until a few years after it is approved.
Despite these reasons to undertake capital projects in tight fiscal circumstances, history teaches that elected officials are reluctant to take advantage of the opportunity.
In the 1980s, the Legislature approved a new building for the state's appellate courts, but in 1989 newly elected Gov. Bayh canceled the project in response to a budget squeeze. The idea was revived in the 2000 General Assembly. By that time, hearing rooms for proposed laws fell far short of the requirements of a modern legislature.
The General Assembly approved a structure that would have freed up space in the Statehouse for needed legislative meeting rooms and created hearing rooms in the new building. But once again a financial squeeze intervened and Gov. Frank O'Bannon vetoed that proposal.
We know that the facilities for the Legislature are woefully inadequate. Hearings on major bills are held with observers overflowing into Statehouse halls, straining to hear what is being said in the hearing room. We can predict that we will need additional space for the appellate courts in coming decades. So doesn't it make sense to plan now to budget prudently for these outlays, rather than depleting the state's surplus with a modest reduction in tax rates?
Finally, a tax cut is proposed as a stimulant for the economy. But a reduction of Indiana adjusted gross income tax has an uneven effect on the Indiana economy. Some taxpayers—typically those in lower income levels—will spend the additional dollars locally. But others will save the money or spend it on travel outside Indiana or a condo in Florida.
By contrast, putting more teachers to work in early education or funding public works projects will create local jobs and projects for Indiana business.•
__________
Boehm is a retired Indiana Supreme Court justice who previously held senior corporate legal positions and helped launch amateur sports initiatives in Indianapolis. Send comments on this column to ibjedit@ibj.com.
Please enable JavaScript to view this content.