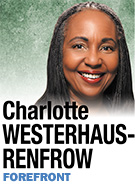 I moved to Indianapolis in the summer of 2005. Since then, I have learned to count on three things to occur each summer—a substantial number of die-hard Indianapolis Colts fans will still suffer from acute post-season withdrawal; mosquitoes the size of hummingbirds will nip at my ankles during my evening walk; and a massive, five-month road construction project (or two) will spring up somewhere on Interstate 465.
Count on it.
However, during my first summer in Indianapolis, the most surreal thing happened.
One morning, after battling bumper-to-bumper traffic on I-465, I shared with a co-worker, "Wouldn't it be great to catch a bus to work to beat the terrible rush hour?"
In the essence of being Indiana-nice, I was politely told that, if I took the bus, people would assume I didn't have any money.
Indeed, a succinct "welcome to Indianapolis" moment.
The General Assembly should support Indy Connect Now's call for a voter referendum in 2013 to fund expanded mass transit services in central Indiana. However, in order to be successful, Indy Connect Now will need to do more than share an impressive overview of proposed route maps and plans regarding reductions in wait times.
It will need to acknowledge that, unfortunately, race and social economic status are proverbial elephants in the room when it comes to discussions regarding regional mass transit.
I will be the first to admit that ambiguous references regarding race and socioeconomic status disparities are distractions. However, let's face it. Bus stigma exists in Indianapolis. I have heard shades of the stigma uttered from the lips of blacks and whites alike from all sectors of the region.
Simply put, there is a perception that public transportation is for poor and minority commuters.
Legislators considering the referendum should carefully think about how a truly regional transit system can benefit all those who want and need to use it regardless of class, creed or color.
Moreover, connecting workers to jobs and students to schools, colleges and universities is a win-win for even those who would not use regional transit.
Indy Connect Now must also continue to boost the support of an important and large segment of "choice riders" who will use regional transit despite having the option to drive their cars.
It will need to influence baby boomer urbanites and suburbanites to move a needle that may be stuck of owning and using an automobile to commute because it reflects positively on their social and economic status. Personal gratification is important to this group and the experience of riding in a car is pleasurable—why else would the average American spend 58.5 cents per mile driven, or $8,776 per year per car?
Indy Connect Now can thaw this resistance by enhancing the brand and prominence of information regarding the regional transit user's experience while riding the bus.
It is no secret that the plan to build a regional transit system will need to demonstrate that it is cost-effective, inclusive and convenient in order to garner support.
However, it will need to do more than merely mitigate concerns regarding financing and paying for the massive project.
A successful plan may have to acknowledge and, more important, remove the stigma of bus ridership.•
__________
Westerhaus-Renfrow is a visiting lecturer at the Kelley School of Business at IUPUI, president of Higher Ed Consultants LLC, and a former vice president of diversity and inclusion at the NCAA. Send comments on this column to ibjedit@ibj.com.
Please enable JavaScript to view this content.