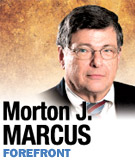 The Rockefeller Foundation has called for ideas that address the nation's youth unemployment situation. Here are mine:
What do young people want to do? Drive cars.
What do American cities need? Better public transit for all citizens.
Put the two thoughts together and we have young people driving small, fuel-efficient buses in our cities to augment existing services.
Yes, I hear the objections: Kids are undependable. They will be a public safety threat. They will be an insurance nightmare. They will take jobs from current drivers. It's a dead-end job. It will be too expensive. State licensing policies may block the program.
Just hold those thoughts. The program I have in mind would employ out-of-school young people age 16 and older. They would be taught vehicle maintenance and necessary work skills including basic math, expected employment norms (showing up on time), principles of customer service and other factors leading to successful job experiences.
Note: Youths would be employed, meaning this training would carry with it a stipend and they can be dismissed for failure to follow the requirements of the program.
Those who are 18 and older become eligible to drive the buses, and serve as supervisors, dispatchers and other adjunct personnel.
The buses themselves exist and may be manufactured at many sites around the nation. They may require some modification to meet transit regulations, but we should be careful not to make the regulations the stumbling point of the activity.
Whether the buses follow fixed routes or are dispatched via an on-demand mode would depend on the circumstances of the region in which they are used. Cities could be chosen to participate based on their unemployment rates, existing public transit adequacy and congestion conditions.
The benefits of this endeavor extend beyond job opportunities for young people in an area of public need. Current public and private transit systems often serve contemporary employment centers poorly because they are focused on traditional downtown areas. This reduces job opportunities for all workers and transit options for the entire population.
In addition, existing systems do not offer entry-level positions, with comprehensive training, for youths. Some existing systems may object to the competition of more buses on the streets. However, enlightened systems could use these auxiliary vehicles and their drivers as a feeder system for their existing services.
The funding of this program needs to be private and sustained. Fares will not cover costs. A not-for-profit structure might be the best legal organization of the services in each community.
Funding for hours of highest transit demand might be obtained from employers or unions that would contract to move employees between the work site and dispersed collection sites. Various peak-hour use models exist in New York and similar cities with high density. It is the lack of density in most cities that limits the successful use of existing bus systems in frequency, number of routes, and hours of operation.
This program opens employment opportunities to unemployed and underemployed young people and other citizens. It trains youths in general workplace skills on which to build for their subsequent employment. It helps address the geographic mismatch of employers and employees, as well as congestion and environmental issues in our cities.
It is a move toward more rational use of our urban land and a meaningful response to urban sprawl.•
__________
Marcus taught economics for more than 30 years at Indiana University and is the former director of the university's Indiana Business Research Center. Send comments on this column to ibjedit@ibj.com.
Please enable JavaScript to view this content.