"It is my studied conviction that we either have a very big hit or we will both be run out of town by an outraged citizenry."
Nic Rouleau finds his mission in "The Book of Mormon." (Photo © Joan Marcus, 2012)
That's what co-producer Howard Lindsay is said to have uttered to his partner Russel Crouse on the day the murder comedy "Arsenic and Old Lace" opened in New York in 1939. It's easy to imagine that same sentence being shared between Trey Parker and Matt Stone, creators of the musical "The Book of Mormon" before it, like "Arsenic," went on to become a Broadway blockbuster.
The two shocking shows were created roughly 70 years apart, but I caught both in the waning days of 2012—"Mormon" in Chicago, where it has settled into a long run, and "Arsenic" at Beef & Boards Dinner Theatre, where it runs through Feb. 3.
"The Book of Mormon" (whose tour hits Indy next season) tells the musical story of a pair of missionaries assigned to spread the word about the Church of Jesus Christ of Latter Day Saints to a village in Uganda. Like some other musicals, it's about would-be teachers who learn from the locals.
But "The King and I" this isn't. Images of a "Lion King"-like Africa give way quickly to harsh realities. The optimistic young men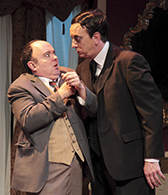 Jonathan Brewster (Jeff Stockberger), demands that plastic surgeon Dr. Einstein (Eddie Curry) give him a new face in Beef & Boards' "Arsenic & Old Lace." (Photo courtesy of Beef & Boards)
find themselves surrounded by AIDS-ridden locals, a vicious warlord and, in a great visual gag to underline their transition, a zebra corpse hauled across the stage.
What happens next—including the would-be AIDS cure, the translation of the catchy "Hakuna Matata"-like ditty the villagers sing, and the place where a "Book of Mormon" gets uncomfortably lodged—is best left to your own discovery when you see the show.
But as much as it takes glee in shocking, this is not a one-note show. I didn't feel pummeled by single-mindedness the way I often do at shock comedies or shock action films at the movies. It's obvious from the first notes that "The Book of Mormon" was crafted by people who love musical theater.
They understand that, given characters we care about, we'll go almost anywhere (including into a "Mormon Hell Dream" where Hitler, Jeffrey Dahmer and Johnny Cochran share a cave). They get that naïve optimism in these characters can be more moving than heart-on-the-sleeve confession in more "sincere" shows. And they stay on the affection side of the parody line when harkening back to the likes of "The Music Man," "Wicked" and "Bye Bye Birdie."
Plus. there's something glorious about brilliantly executed goofiness. Casey Nicholaw's choreography—and the Chicago production's game company—often achieves just that. That's one of the reasons that, rather than remembering being doubled over with laughter, my outstanding memory of watching "The Book of Mormon" was knowing I had a big smile on my face.
Of course, it helps that the tunes are terrific. The less-heralded hero of "The Book of Mormon" is composer Robert Lopez, who supplies catchy song after catchy song with a consistency that hasn't been seen since the first act of "Hairspray."
I used to counter people who lamented new musicals that didn't have memorable scores with this reply: "You only remember the classics because you've heard them so many times." But with "You and Me" (But Mostly Me)," "Sal Tlay Ka Siti" and "I Believe" still ringing in my head days later, I'm going to have to rethink that.
It's all packaged in a way that makes me wonder if most of the convulsive audience is really getting the message of the show: that religion can do important things if we get that its stories are metaphorical, not literal truth.
That's a shockingly radical statement for a popular musical comedy.
——-
Generations of high school and community theater revivals of "Arsenic and Old Lace" might have caused it to be lumped in with such old chestnuts as "Life with Father" and "You Can't Take It With You."
But there comes a point in any decent production of the show—and Beef & Boards' is a decent one—where the audience seems to realize the perversity of a story in which a pair of gentile elderly sisters systematically murder homeless men and have them buried in the basement of their stately Brooklyn home.
That one of their nephews is a sadistic killer willing to painfully punish his own brother for past perceived indiscretions makes it even more twisted. (Among the brother's crimes is that he is a drama critic, so I suppose there's some justification.)
Pulling it off with maximum effect requires a balance between atmospheric thriller and screwball comedy. This production has a game cast—with Eddie Curry's Dr. Einstein and, in a minor part, Jim Habegger's Mr. Gibb standing out—and the material works even when the pace is a bit off. But the show could use more on the atmospheric side than an over-amplified creak in the window seat where they hide bodies.
The perfectionist Brewster sisters would have had that taken care of long ago.•
__________
This column appears weekly. Send information on upcoming arts and entertainment events to lharry@ibj.com.
Please enable JavaScript to view this content.