A historic brick building long used as a restaurant and hotel suites next door to Circle Centre mall is going up for sale for the first time in almost a decade, with an expected asking price of $4 million.
The distinctive four-story, 1875 building with arched window openings had been home to 14 West Restaurant and Suites until the end of 2012, when the operation shut down. The restaurant was previously known as Malibu on Maryland.

Fortune
The business had been a passion project of businessman and philanthropist Carter M. Fortune, who died at age 70 in August. Fortune was chairman of locally based Fortune Industries, a publicly traded company that is undergoing a complicated restructuring.
The building's owner, an entity called 14 West LLC, lists the same address as the headquarters of Fortune Industries, though the publicly traded company has no ownership interest in the property, said Carrie Hill, Fortune's general counsel. The sale of the building also has no connection to the restructuring, which includes the transfer of shares that were owned by majority shareholder Carter Fortune to a management-led buyout group.
The 14 W. Maryland St. building is now held by a Fortune family trust for which Hill serves as trustee. The sale includes the restaurant and equipment, along with hotel suites that are set up as condominium parcels for tax purposes.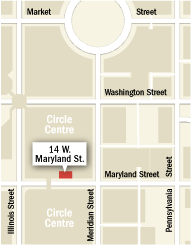 The building and its five hotel suites, about 20,000 square feet total, have a combined assessed value of $1.1 million.
Fortune Industries regulatory filings show 14 West LLC also owns 1,259,834 shares of common stock, which is worth about $201,000 based on recent trading in the shares. The shares would be sold separately from any transaction involving the building, Hill said.
The 14 West restaurant space includes the basement and first two floors. The upper floors include updated hotel suites and a large penthouse that served as a Super Bowl home base for a large corporation.
"Carter had a lot of passion for that restaurant and the people who worked there," Hill said of the property, which Fortune acquired in 2005.
The owners of the historic building that until last year housed the 14 West restaurant hope to sell the property for about $4 million to a "legacy-type buyer." (IBJ photo/Perry Reichanadter)
The building, known as Elliott's Block, was home to Indiana News Co. after serving as a warehouse annex for L.S. Ayres Co. An extensive renovation in 1999 transformed the space into an upscale restaurant with hotel suites. Local investor Richard Coombes, who led the revamp, sold it to Fortune.
The sellers hope to find a "prestige" or "legacy-type buyer" for the property, which is technically being offered without an asking price, said Janice Paine, director of investment services for the Indiana Region of Colliers International, who is lead broker on the listing.
Among the potential buyers is a professional athlete interested in opening his own restaurant and/or nightclub.
Paine expects a buyer would most likely stick with a restaurant on the lower levels but could repurpose the residential space—which has operated as an unadvertised, exclusive hotel—as condominiums or apartments.
Finding a buyer could be tricky, particularly with a whisper price of $4 million, or about $200 per square foot, a rich sum for a neat historic building that nonetheless has a long list of downsides. For starters, it's a smallish, mid-block building with no dedicated parking.
Remaking the space as offices or apartments would require lining up off-site parking, noted developer and investor Todd Maurer, principal at Newmark Knight Frank Halakar. He added that few restaurants—among them St. Elmo Steak House—can thrive without prominent corner real estate.
Maurer said he would take a look at the building, but figures its value is more in line with recent sales of historic downtown office buildings than that of Class A sales such as Chase Tower.
Massachusetts-based CommonWealth REIT last year paid $201 million—about $190 per square foot—for the 48-story Chase Tower and an adjacent building on Monument Circle.
On the other hand, the 16-story, 111,000-square-foot Circle Tower sold late last year for a more modest $6 million, or about $54 per foot. And the six-story Ober Building at 107 S. Pennsylvania St. sold for $3.8 million, or about $61 per square foot.
Even those more modestly priced buildings have a big advantage over 14 W. Maryland St.: paying office tenants, Maurer noted.
The 14 W. Maryland St. building isn't the only real estate holding in Carter Fortune's estate.
Fortune also was the sole member of Fisbeck-Fortune Development LLC, which owns several properties including office buildings at West 86th Street and Zionsville Road and in Tennessee and Missouri that are leased to James H. Drew Corp., which is owned by a privately held arm of Fortune.
The estate also owns the 170,800-square-foot Fortune Industries headquarters building along Interstate 465 south of 71st Street on the west side. The office and industrial building, constructed on about nine acres in 1996, is up for sale with an asking price of $6.75 million.
Fortune also had personal real estate holdings not involved in the companies, including a farm in Freedom.•
Please enable JavaScript to view this content.