DePauw University fits the stereotype of private liberal arts colleges pretty well.

Leafy campus covered with bricked, Georgian-style buildings. Classes averaging just 10 students for every professor. And a sticker price that, at more than $38,000 a year, makes one's eyes pop.

The question for DePauw and for every other liberal arts college in Indiana and the nation is whether their high-touch, high-cost model of education can survive much longer.

The ability of students and their families to pay for college dropped dramatically during the recession and has not recovered. At the same time, donors' willingness to keep juicing the endowments and scholarship funds of private colleges remains depressed due to market jitters. And now improvements in online technology are threatening to pull students away from the traditional college experience.

The dynamics are forcing many private colleges to rethink and revamp how they do things—sometimes radically so. Some are cutting prices, some are embracing online technology, some are launching professional programs to help subsidize their core undergraduate mission.

And some, like DePauw, are trying to forestall radical change with marketing that brings in more students able to pay for its expensive brand of education and more donors able to subsidize it.

"Our way to get out of this crisis is to try to do what we do at the highest possible level," said President Brian Casey, sitting in an armchair in his Greencastle office. "I think the very best will survive, and low-cost providers. It's the middle that I don't know about."

The ability of private colleges to keep going could have major impacts in Indiana and the nation.

Thirty-one private, not-for-profit

colleges in Indiana enroll 77,000 full-time-equivalent students—making them collectively the second-largest university system behind only Indiana University.

Among students attending not-for-profit colleges, private institutions account for

nearly one-quarter of the total in Indiana and nearly half nationwide.

And with both state and national leaders pushing for a dramatic increase in percentages of adults with college degrees, they can ill afford a major contraction among private institutions.

The alarm among private liberal arts colleges is widespread. In April, a conference on the future of liberal arts universities at Lafayette College in Pennsylvania drew 200 college administrators.

"Our financial model is unsustainable in terms of continuing our rate of tuition increases and the assumption of large endowment returns," Rebecca Chopp, president of Swarthmore College in Pennsylvania, said in an Oct. 25 speech. "In this historic moment, the sky may truly be falling, at least nationally, on our type of education."

Dick Kneedler, a senior consultant to private colleges for the firm Ann Duffield & Colleagues, said private colleges have been hit by the perfect storm that has reduced their income from students, donors and investments all at the same time.

And, Kneedler added, it's a real possibility that some private colleges could go away, at least by merging with others.

But in spite of their troubles, he has a positive outlook for private colleges.

"I honestly believe that the liberal arts are going to continue to be very much a part of the American higher education scene," said Kneedler, a former president of Franklin & Marshall College in Pennsylvania.

"And one of the reasons is that, even institutions that are not noted as liberal arts colleges are hearing the same things that we've always heard from employers. That they want graduates who can communicate and think critically and adapt to change. Those are skill sets that are definitely produced in that high-touch environment."

How liberal arts colleges survive will be as varied as their current missions. What follows are four examples of Indiana private liberal arts schools, each trying a different strategy.

DePauw University - Become a standout Midwest institution

When Brian Casey became DePauw's president on July 1, 2008, DePauw had never been stronger financially. It had raised net tuition and fees for students 32 percent faster than inflation since 2000—while managing to grow its student body 8 percent to nearly 2,400 and boost the overall academic credentials of those choosing the school.

DePauw's endowment had ramped up to a hefty $545 million, which generated $25 million per year for operations.

That was helpful to keep DePauw's student-to-teacher ratio at 10:1, placing it in the top 30 in the nation. It also helped the university, which even Casey says looks like "a Hollywood set of a small liberal arts college," keep adding and renovating buildings.

But in the next year, during the financial meltdown on Wall Street, the value of the endowment plunged more than $100 million.

DePauw trimmed about 12 non-tenured professors, and also trimmed staff sharply. Numerous grounds crew, assistant athletic coaches and other employees lost jobs.

The school also refinanced its $120 million in bonds—and enacted a policy to take on no more long-term debt.

With fewer families able to pay its $14,000 in annual net tuition and fees, DePauw also started handing out larger and larger tuition discounts. Since Casey arrived, the school's discount rate—the average amount per student the school deducts from its sticker price—has risen from 49 percent to 56 percent.

DePauw trustees want to get that number back down into the 40s by finding more students who are able to pay a larger chunk of DePauw's sticker price and to raise more money from donors for scholarships to students of more modest backgrounds.

And the way to do both of those things, Casey believes, is to make DePauw one of the Midwest liberal arts schools that Americans from coast to coast know about. DePauw is especially trying to attract more students from California, Texas and Florida.

Casey, who went to college at the University of Notre Dame but has spent the last 20 years at Harvard and Stanford universities, said people on the coasts know of four Midwestern liberal arts colleges: Carleton, Grinnell, Kenyon and Oberlin.

"Clearly, there's room for a fifth," Casey said. "Clearly."

DePauw developed its first campus master plan in 2010, which identified $75 million to $100 million in building projects over the next decade, including a new dining hall and faculty lounge, a renovated library, and a redesigned boulevard leading into campus.

Having raised money for many of those projects, DePauw is turning its attention to improving students' overall experience, with a better coordination of off-campus experiences and spruced-up athletic facilities. Also, DePauw partnered with the city of Greencastle to put the university bookstore on the courthouse square and attract an adjacent Starbucks coffee shop.

Grace College - Focus relentlessly on costs

Grace College and Theological Seminary in Winona Lake saw its freshman enrollment collapse 50 percent in the 2008-2009 school year.

And with an endowment of just $8.3 million and a student body where nearly half of students qualify for federal Pell grants, Grace had few options other than to find ways to operate more cheaply.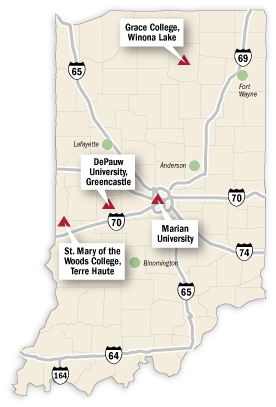 "This economic crisis was a big motivator," said Provost Bill Katip. "We don't want to be in desperate straits. We want to be able to give raises."

So he has led a radical reworking of the 1,820-student evangelical Christian institution in northern Indiana.

First, Grace started offering two-year associate's degrees in Fort Wayne and Indianapolis, and will do the same in Detroit beginning next year. The lower-cost degrees in new cities are a way to generate more revenue from existing faculty and resources.

Katip also applied the same idea in 2011, revamping all 60 majors so they could be taken in three years instead of four. Doing so required more summertime teaching by faculty and using online technology to deliver more and more courses in what is known as a blended or hybrid model.

The result is effectively a 25-percent discount to Grace's average net tuition of $7,500. And students have responded. Enrollment has shot up more than 350 students in just the past two years, with nearly half of new students citing the three-year program as their reason for choosing Grace.

"We believe it's working," Katip said. "Our enrollment has increased. We believe it's beginning to hit the affordability issue head on."

It was not easy to get faculty to go along with such a radical change, Katip acknowledged. He estimates that fewer than 15 percent would have supported the three-year programs at the outset. But through a patient series of meetings over two years, Katip made it clear that Grace had no other choice.

"We had open forums," Katip said. "It was a lot of work, a lot of work."

Grace College's latest innovation is to offer engineering degrees on its campus in a partnership with Fort Wayne-based Trine University.

"We couldn't have afforded to start engineering, but I've got 15 to 20 kids enrolled this year that wanted to try engineering," Katip said. "We think we need more of these partnerships."

Marian University - Add graduate programs

Sitting in the heart of Indianapolis, Marian University has weathered fairly well the recent storms hitting private liberal arts colleges.

That's because President Dan Elsener has spent the past decade launching graduate and professional training programs to tap into the more than 800,000 workers in the Indianapolis area.

The small Catholic college has seen enrollment double to 2,000 in the past decade, and its net tuition revenue has more than tripled. Some of that has come from raising prices—Marian hiked net tuition 32 percent faster than inflation between 2000 and 2010.

Some of the enrollment growth has come from adding sports teams—even winning the national football championship for small colleges in 2012.

But the lion's share has come from expanding nurse training as well as adding teacher and principal training programs. Marian will start the state's second medical school next year and just last fall signed an agreement with Purdue University to offer engineering degrees.

Elsener said liberal arts is and always will be expensive. But he said if schools present a clear and distinctive mission, which can be shown to have a positive economic outcome, they can still convince students and donors to pay for it.

Elsener credits that approach with helping him raise $153 million, which has boosted Marian's endowment to $45 million from $4 million over the past decade.

"The days of doing things just out of habit without a clear economic outcome, I think the economic times are forcing the issue," Elsener said. "Distinctiveness and quality will be the winners. The middle guy that does something average is going to have trouble."

St. Mary of the Woods College - Blend on-campus and distance learning

Many schools are now dabbling in online technology to reach more students using existing resources. But St. Mary of the Woods College in Terre Haute has been teaching students off campus for 40 years.

The Catholic women's college launched the nation's second distance education program in the early 1970s in response to declining enrollment after the Vatican II council said Catholic girls no longer had to attend a Catholic college.

The distance mail-in program shifted to the Internet in the 1990s and even, in 2005, started enrolling men. It also has won awards for a distance tutoring program it developed to help students when they are not on campus.

"Sometimes around here we say we're high-tech and we're high-touch," said President Dottie King.

The college has nearly 900 online students, compared with just 500 on campus, which includes both graduate and undergraduate students.

But with students increasingly pinched to pay St. Mary's net tuition and fees of $7,000, and with more and more colleges offering distance education programs, St. Mary has seen online enrollment decline 20 percent over the past decade.

So King is trying to figure out how to increase on-campus enrollment—while using online technology to make those on-campus courses more efficient. The idea is that, since St. Mary's regular faculty all teach online courses, on-campus students can consume the same courses online with no duplication of effort.

But the on-campus experience would then include face-to-face interactions with professors to discuss the online lessons.

"We're trying to be as efficient as possible," King said. "We're trying to figure out, how do we intentionally grow our volumes? You can increase revenue by increasing tuition or you can increase revenue by increasing your volumes. And I still don't believe we can escalate the price of tuition beyond anybody's ability to pay for it."•