Just five years old, Ben Davis University High School is demonstrating that a public institution can succeed serving the most underprivileged students.
The school on the west side is funded by Wayne Township taxpayers, just like the traditional Ben Davis High School. But the return on investment is much higher—highlighted the past two years by a 100-percent graduation rate typically reserved for private schools.
Even more impressive is that students—379 this school year—are tasked with a difficult curriculum that enables them to earn an associate's degree from Vincennes University while completing their high school diploma.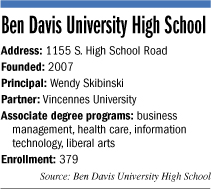 The university in southeastern Indiana offers each student at the high school a two-year education valued at about $11,000 annually.
Though the university gives Wayne Township a discount on the tuition, the district is still picking up the tab—a cost Principal Wendy Skibinski says is well worth it.
"College has always been for that certain student," she said. "We need to make sure there is equal access for all."
The idea for the school was spawned by Terry Thompson, a retired superintendent of the Wayne Township school district, and Vincennes University President Dick Helton.
It's housed within the old Ben Davis High School on South High School Road, which later was converted to a junior high. The university high school opened in 2007 following a few years of renovations.
About 20 early-college programs, including both public and charter schools, exist in Indiana. In the Indianapolis area, Vincennes offers a similar program at Center Grove High School.
But Ben Davis University High School is the only early-college program in the city operating separately as its own school and may best exemplify that it's not just charter schools that are pursuing innovative concepts.
"It's probably got the most recognition, and their graduation rate is one of the reasons," said Janet Boyle, assistant director of the Center of Excellence in Leadership of Learning at the University of Indianapolis.
One of the reasons for its ultra-high graduation rate is Vincennes University's commitment to providing personnel at no cost to the township. The school's dean of instruction, in addition to two academic tutors and two learning coaches, all are employed by the university.
To operate like a true college, the school employs two separate schedules in which classes on Mondays, Wednesdays and Fridays run 60 minutes and those on Tuesdays and Thursdays run 90 minutes.
The school also offers a flex period in which students can visit with any of the 17 full-time teachers or tutors to receive additional help with tougher subjects.
Students are coached in areas in addition to the core curriculum. They learn how to complete job applications and write resumes, and even how to send a coherent e-mail without using text-message codes that an adult normally might not understand.
"We're not focusing on the cream of the crop," Skibinski said. "That's not the student we're looking for."
The goal is to serve those striving to become the first in their families to graduate college. Recruiting begins in eighth grade, and students are judged partly on the application and teacher recommendations they submit. They also are queried by a panel of faculty and students.
Students can be accepted into the school until the 10th grade or when they arrive at the high school. First-year students are housed at Ben Davis' freshman center.
Senior Zuberi Robey is certain she would not be performing as well as she is if she were enrolled at a typical high school. She's pursuing an associate's degree in health careers and plans to attend Indiana University to ultimately become a nurse or veterinarian.
"They've given me that extra head start for college," she said. "That way it's not a financial burden on us, and there's an amazing support system."
The aim is to ultimately enroll 450 students at the school, or 150 in each of the three grades. Though that has yet to be achieved, the school still turns away some students for various reasons. A 2.2 grade-point average is preferred, but the school has accepted students with lower GPAs, Skibinski said.
A big deterrent for other students is a lack of any sports programs.
Those who complete the program can earn an associate's degree in one of four areas—general studies with an emphasis on information technology, business management, health careers or liberal arts.
About 75 percent have furthered their educations by attending a four-year college, while others might go into the military or straight into the work force.
It doesn't matter to Skibinski what path they choose, as long as they have that two-year college degree to give them a head start.
"It's to give them the confidence to say, 'I can absolutely do this,'" she said.•
Please enable JavaScript to view this content.