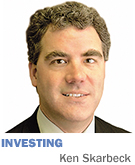 For investors who like to dig into company details, there is nothing like a good case study. A fascinating one can be found in the divergent fortunes of locally based HHGregg (stock ticker HGG) and Texas-based Conn's Inc.
Both firms are engaged in the competitive business of selling consumer electronics, home appliances and furnishings. Often, companies in the same industry have similar results given the common economic factors affecting their industry. But HGG and Conn's stock charts for the past five years look like the inverse of each other. This is unusual for two companies essentially doing the same thing.
Conn's operates 66 stores, mostly in Texas, and has annual revenue of $800 million; HGG operates 223 stores east of the Mississippi River with revenue nearing $2.5 billion. Considering that HGG has more than three times the stores and revenue, surely its stock market value is higher than Conn's, right?
Not only is Conn's market value higher, but the difference is substantial: Conn's business is valued at $950 million, versus $245 million for HGG.
What could possibly explain this? Product mix can explain some of the disparity. In the recent quarter, Conn's saw a 31.7-percent increase in higher-margin furniture and mattress sales, which represent about one-fifth of total sales. That segment accounts for less than 10 percent of HGG's sales.
Also, HGG's larger video category has been clobbered, with same-store sales off 20 percent. It's hard to make a profit on television sets as the industry undergoes price and margin pressures.
But the key difference between the companies is that Conn's finances customers' credit sales on its balance sheet, while HGG farms the function out to a third-party financial institution. The dissimilar business strategies help explain the valuation disparity between these two companies in the stock market.
As Conn's recent results show, a lot of money can be made in subprime lending when conditions are favorable. In Conn's quarter ended Oct. 31, financing revenue was $39 million and provisions for bad debt were $13.5 million, adding $25.5 million to operating earnings for the quarter.
Moreover, in the past several quarters, Conn's financing revenue has been growing and provisions for bad debt shrinking, generating excellent earnings growth. The stock market has taken notice, boosting share prices from less than $5 in October 2011 to nearly $28 today. HGG's stock price has dropped from about $23 per share to $7 over the same period.
Coming out of the credit crunch, however, HGG was on a roll and Conn's ran into trouble with its credit business. HGG's stock rocketed from a 2009 low of less than $5 to $30 by mid-2011. Conn's stock sank to $6 during the 2009 crisis, only to drop even further in 2011 as subprime credit markets languished. Hence, their stock charts over the past five years look like inverse sine waves.
So momentum investors have bid up the shares of Conn's to valuations that look pricey, while HGG shares hover at trough valuations. That may be tempting enough for value investors to take a look.•
__________
Skarbeck is managing partner of Indianapolis-based Aldebaran Capital LLC, a money management firm. His column appears every other week. Views expressed are his own. He can be reached at 818-7827 or ken@aldebarancapital.com.
 
Please enable JavaScript to view this content.