The ever-evolving information/answers service ChaCha Search has launched a startup within the 7-year-old company.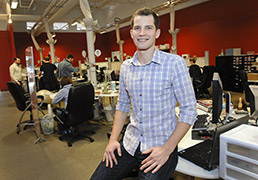 Verge founder Matt Hunckler was tapped for ChaCha startup. (IBJ photo/Perry Reichanadter)
And it's tapped Matt Hunckler—head of the popular tech entrepreneurship initiative Verge—as vice president of product development.

The startup, Social Reactor, will match advertisers with participating celebrities and other "social influencers," who will use social media tools such as Twitter to drive fans to advertisers.

If the concept works as planned, advertisers will get more celebrity-driven eyeballs on their ads or websites and see more sales.

ChaCha and celebrities/social influencers will share in a portion of the revenue.

A social influencer can be someone with a widely followed Twitter handle--say an expert in fitness or technology or another field.

"We've been experimenting for a couple of years with [Social Reactor], very quietly," said Scott Jones, the serial tech entrepreneur who founded Carmel-based ChaCha.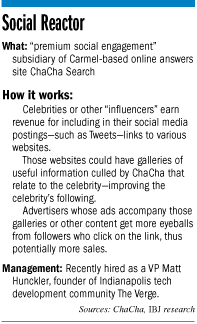 Jones recently announced the formal launch of Social Reactor, which already represents about 20 percent of ChaCha's $12.2 million in revenue.

The specifics of the revenue-sharing model between celebs/social influencers and ChaCha aren't clear at this point.

Social Reactor promises to provide advertisers access to more than 250 million "engaged" followers of social influencers and celebrities on social media platforms such as Twitter and Tumblr.

It could be as simple as a celebrity tweeting that fans should check out a website that might interest them—such as a photo gallery of the celebrity at the ChaCha site. Traditionally, ChaCha places ads in the right rail alongside its photo galleries.

The fan who clicks on the link in a celebrity's tweet would view the content and see the ads.

One plus for ChaCha, besides driving more traffic to its site, is that it can tap its vast database of photos, question-answer pairs and other content built over the last seven years. Besides directing fans to photos, the platform could easily offer a trivia quiz about the celebrity, for example.

Early adapters

As for who has used the Social Reactor platform, Jones points to Shark Branding, a New York company headed by branding guru Daymond John.

John also is the star of ABC Television's "Shark Tank" business entrepreneur show.

Social Reactor has also been used to steer social media audiences to companies featured on "Shark Tank" that panelists, known as sharks, invest in.

ChaCha's chief information officer, Doug Gilmore, said John told him that he wished more viewers took an interest in companies in which he and other sharks invested.

So they used Social Reactor to get the word out about the Cate App, a wireless phone app pitched on the show that erases calls and texts. It's better known as the "cheater app."

John was among the investors in the app, which the sharks thought would have great potential for law enforcement and government use. Social Reactor enlisted social influencers to Tweet about the app "and the numbers were staggering—the number of people who clicked on [the link]," said Gilmore, who helped develop Social Reactor.

"You'd think that a nationally syndicated TV show would drive people to go out and look at it."

But Social Reactor drove most of the traffic, which is indicative of the kind of targeted interest the platform can generate, Gilmore said.

Jones said Social Reactor has driven sixfold revenue increases for brands that have used social media campaigns. And he said the platform has registered more than 2 million daily visitors.

ChaCha and Social Reactor currently are in talks with Sony Pictures about using the platform to promote its television show "Happy Ending," said Salim Tarazi, general manager of Social Reactor, who is based in San Francisco.

Tarazi said there's the potential to harness 85 million people on Twitter to check out the show.

Celebrities aren't the only means of steering the social-media-engaged masses to an advertiser. Tarazi noted there are many Twitter influencers with large followings in niches such as sports, comedy and education.

One of these influencers in the fitness realm, for example, could be key in steering followers to Red Bull's energy drink site. These followers tend to be more engaged in a topic.

"Our message tends to be highly engaging and targeted," Tarazi said.

Hunckler-Jones connection

Tech observers said they hadn't yet heard of Social Reactor, whose website at this point offers precious little in the way of details. The closest parallel might be to the site Whosay, where celebrities opine about life and things they're interested in.

One person who seized on the idea and its potential, however, was Hunckler. He said the ChaCha subsidiary is eerily similar to an idea he had four years ago when he started using Twitter in earnest.

The social media space "is in my opinion one of the greatest tools to get your message out there," said Hunckler, who has filled up a large whiteboard with more scribbles than a college physics professor during a three-hour night class.

On only his second day on the job, he apologized to a visitor for not having business cards yet. That Jones landed Hunckler is notable. Hunckler is one of the city's tech superstars, perhaps best known as co-founder of Verge, a group of tech entrepreneurs that now has more than 2,000 members.

Verge recently launched chapters in Bloomington and West Lafayette.

While at Indiana University, Hunckler created his own web design firm—and sold it at age 22. Jones and mentors back then convinced him to come to Indianapolis after that, rather than to find fame and fortune in tech on the West Coast.

Hunckler worked at Indianapolis-based Slingshot SEO as marketing director, during the tech company's growth heyday. He went to work full time to head Verge, and helped organize last year's Powder Keg entrepreneurial pitch event downtown.

Jones has let Hunckler spend some time trying to find a new executive director for Verge (Hunckler calls it "my baby") as he eases into his new gig.

"He reminds me so much of myself at age 26. That's when I started my voice mail company," said Jones, whose claim to fame was developing the underlying technology used in modern voice mail systems.

Jones went on to create other companies, such as Escient, which made products to manage vast audio and video libraries.

But Jones' latest creation, ChaCha, has kept him plenty occupied over the last several years. He's needed to continually adjust its business model to changing technology trends.

When launched in 2006, ChaCha offered access to its "human assisted" Internet search engine guides through the desktop computer.

Two years later, ChaCha allowed users to access its question/answer pairs via mobile phone. It embedded ads in the answers.

In 2011, ChaCha began providing text Q&A services for 311NYC, A New York City municipal information service.

The company soon after launched its mobile answers service in the United Kingdom. It's also looked at adapting its text message answers to inbound corporate call centers.•