I, for one, have never left a bowling facility thinking much about the food consumed there. But Latitude 39 (4016 E. 82nd St., 813-6565), the new entertainment center repurposing the expansive space long abandoned by the AMC Clearwater movieplex, seems to want to change that, offering food not only at the bar and in its 360 Grille restaurant, but also waitress service on the bowling lanes.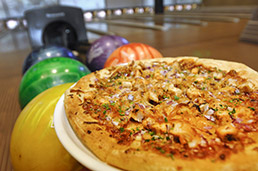 (IBJ Photo/ Perry Reichanadter)
While some may be turned off by the idea of dining in such a location (you don't know whose fingers have been in those bowling balls), it's certainly an upgrade from most alleys.

Here, you can order soup between spares, salad between strikes, and shrimp between splits. Convenient? Yes—except that you can't put it all on one check. (And, in our case, a kids-eat-and-bowl-free special seemed to baffle workers on both ends of the business, forcing an excessive amount of time trying to get Latitude's right and left hands to work in sync.)

As for the food itself, the 360 Signature Salad ($9.99), mixing field greens, spicy pecans, Fuji apples, crumbled blue cheese, onions and tomatoes in a balsamic vinaigrette, certainly wasn't something you'd expect anywhere near tenpins. For the price, I would have expected more, but what was there was delicious. Salsa Trio ($8.99), featuring House Pico, Fire Roasted, and Salsa Verdi, inspired a round of, "Which is your favorite?" among our party, with all earning at least one vote. The clear winner in the Slider Sampler ($7.99) proved to be the pulled pork, which rose above its Buffalo fried chicken and ground chuck brethren.

Build Your Own Pizza ($8.99 base with 99-cents and $1.99 add-ons) options include smoked gouda, goat cheese and sun-dried tomatoes. Instead, we went for a pre-set Margherita ($10.99) which, like the salad, was tasty but tiny. The fish was standard cod planks with an unexceptional breading in the Battered Fish and Chips ($12.99). And am I alone in expecting the "chips" to be something different from the fries that accompany a standard kids' meal? OK, so they were good, with an ample amount of pepper sprinkled on, but still.

Service—and assistance with lane issues—was attentive and friendly throughout two games and a meal. I'm still not quite sure how my son got a ball stuck in the gutter with the bumpers up, but that's another story.

Beginning in February, there will be another dining option at Latitude 39. That's when Latitude's Cinegrille Dine-in Cinema opens. "The Big Lebowski" and a pizza anyone?•

—Lou Harry

__________

First in a month-long look at Clearwater-area restaurants.